Here's The Best Peanut Brittle Recipe Without Corn Syrup
So, during my last craving for peanut brittle, I used my microwave peanut brittle recipe. It's something I like to eat all year long.
The only issue I have is that it's using corn syrup. If you've been following my posts, I try to substitute or get rid of corn syrup as much as I can.
For recipes I have just tried or am still learning about that have corn syrup, I do it the original way first before I test it without corn syrup.
Today, I'll share with you my peanut brittle recipe without corn syrup just as I promised. This is a stovetop version, so maybe in one of my future posts, I will again share with you a microwave version of this peanut brittle recipe.
Why do I try to avoid corn syrup? The list is long.
Some studies found that high fructose corn syrup (HFCS) is more addictive than sugar. Its effect on the brain is similar to how addictive drugs work. Researchers are trying to link if HFCS plays a role in opioid addiction.
HFCS also plays a significant role in developing obesity and increases the risk of having a fatty liver.
While there isn't really much difference in table sugar and corn syrup in terms of calories, it's been said that they are metabolized differently. So if I can help it, I'll just avoid corn syrup altogether.
Because this is a stovetop recipe, it's a little messier than if we do it in the microwave. However, I believe the fun is in the process and the kitchen is like a playground to me, so no worries. Let's deal with the mess later.
What I like so much about peanut brittle is that it's a great holiday gift. I did mention before, mom likes to make this on Christmas mornings to give away to neighbors and friends. 
Of course, we would have a whole batch for ourselves, too! And I always enjoy munching on some while I help wrap the packs or tin cans we are giving away.
I've picked up on this tradition, making some to give away to friends. Considering I've been making this with mom since I was young, I refuse to buy the expensive ones in the store.
Why would I when I have the best recipe on hand? Also, I can make them anytime without waiting for a special occasion or a holiday to come along.
So here's my peanut brittle recipe without corn syrup. I hope you enjoy this as much as I do.
Tips in Making the Perfect Brittle
Making peanut brittle is simple, but it's easy to mess it up if you don't pay enough attention.
I failed in making the caramel a couple of times before because I was doing the same mistake over and over, and I just gave up for a while.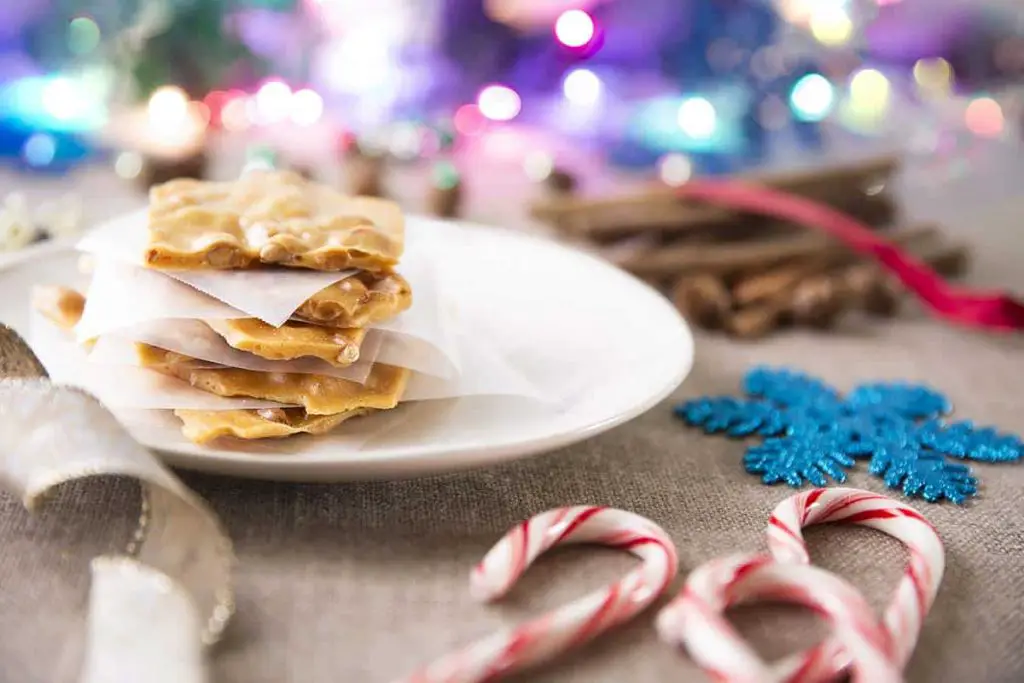 I was so used to doing it in the microwave, so I had to adjust to achieve the perfect peanut brittle I was looking for.
If you've failed this in the past, don't give up. It's always worth another try. Here are some tips in making the perfect brittle.
1. It's important to get everything ready before you start. 
Hot sugar is critical to work with because it burns easily. The key here is preparing all ingredients and the baking sheet so that you can move swiftly through the process without pausing to get the baking soda or greasing the baking sheet or whatever. 
The bottom line here is, everything should be within arm's reach the SECOND you need it.
2. Use a heavy-bottomed tall pan.
Using a heavy-bottomed pan is helpful in keeping your sugar mixture from burning. A thin saucepan gets hot easily and is more difficult to work with in terms of melting sugar.
Also, the mixture will bubble up once you add the baking soda, so using a tall pan will help keep the caramel from spilling all over the place.
3. Don't stir the sugar after mixing the ingredients together. 
One common mistake in working with hot sugar is stirring it in an attempt to speed the process up. What you should do is stir the water and sugar, and bring it to a boil without stirring.
4. Keep your eye on the mixture. 
I know I said let it boil without stirring. While you are doing that, make sure that you're just right there waiting for it to boil. 
When the sugar starts to brown, it will brown fast and a few seconds delay might lead to burning the whole thing.
5. Act fast. And I mean FAST.
The moment the sugar starts turning brown, you need to IMMEDIATELY turn the heat down. Again, DO NOT STIR. 
Just move the pan around to incorporate the caramelized sugar until the mixture turns to a deeper brown color.
6. Don't be intimidated by the bubbles. 
Adding in the baking soda will create a chemical reaction, leading the sugar mixture to bubble a lot. It's a normal reaction and that's what makes the brittle crunch perfectly. 
Print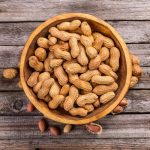 Best Peanut Brittle Recipe Without Corn Syrup
---
Author:

Total Time:

30 minutes

Yield:

Approximately

2.5 cups

1

x
1 ½ cups

salted peanuts

1 cup

granulated sugar

¼ teaspoon

salt

1 tablespoon

butter

½ teaspoon

vanilla

1 tablespoon

baking soda
Kitchen tools you'll need:
Heavy-bottomed saucepan
Greased baking sheet
---
Instructions
Prepare all the ingredients before starting with anything. I find this very important because every second counts in making the caramel.  It's very easy to mess the hot sugar up, so you got to have everything in handy and ready for the next process to ensure you don't burn your mixture. This means all ingredients should already be measured and placed in bowls near you. The baking sheet should already be greased as well.
Combine sugar, water, and salt in a heavy-bottomed saucepan.
Bring to a boil over medium-high heat without stirring.
Once the color of the sugar starts to change around the edge, turn down the heat to medium.
Gently swirl the pan around to incorporate the caramelized sugar until the color turns to dark amber.
After all the sugar is incorporated, take the pan off the heat and quickly add in the butter, vanilla, and baking soda. Stir continuously until the mixture becomes glossy.
Stir in the nuts quickly and pour the mixture onto the greased baking sheet. You don't have to worry about spreading it out evenly. Just pour the mixture in the middle, swirl the baking sheet around, and the hot mixture will spread by itself.
After the mixture spreads on its own, flatten the parts where the nuts are in huge clumps.
Let the peanut brittle cool for about 30 minutes.
Once the brittle is ready, crack the brittle to pieces. Store in an airtight container.
Prep Time:

5 minutes

Cook Time:

25 minutes

Category:

Candy