The kids and I love mallows so we almost always have a storebought bag in the pantry. I don't really make marshmallows at home often. But when I do, it's for a good reason.
The last time I made marshmallows was during the last cookout we had with friends. We had vegan guests so I thought of making vegan marshmallows so they too can enjoy the s'mores. I posted that recipe a few months back and I made it without using gelatin but with a cup and a half of corn syrup.
Those who have been with me from the time I started this blog know that I try to avoid corn syrup if I can. So if I ever post something that has corn syrup on it, I often come back and recreate that recipe eliminating corn syrup from the ingredients.
So, if you're like me and you prefer corn syrup-free treats, then this recipe is for you, it's free of corn syrup and gelatin! This is a great treat to make for your vegan family and friends to indulge in and I'm sure you'll enjoy making this as much as I did.
Read on to find out how to make vegan marshmallows.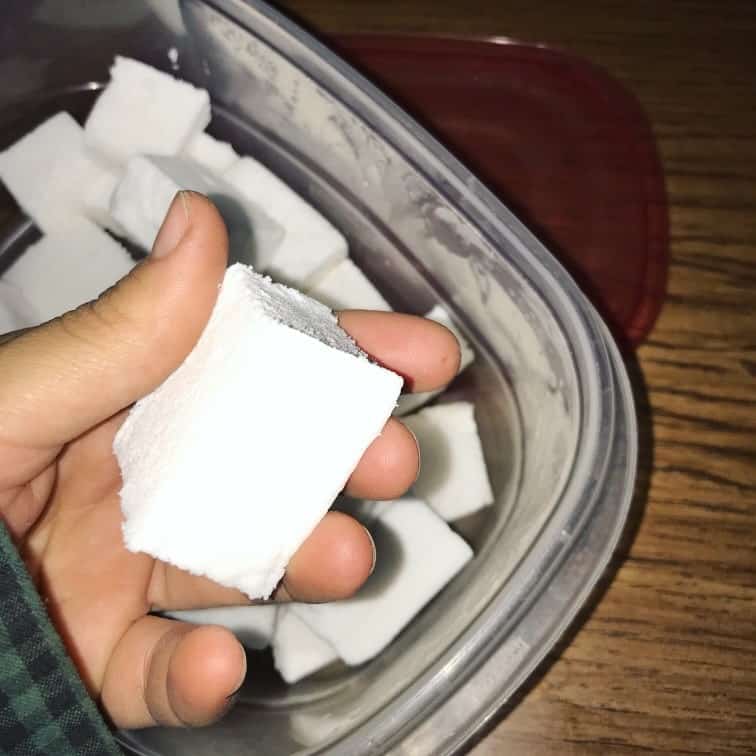 What Makes Regular Marshmallows Not Vegan
At first glance, you might think marshmallows are innocent treats that can be enjoyed by just about anyone. But don't be fooled, they're not something you can serve to your vegan and vegetarian family and friends. This is because of one simple ingredient: gelatin.
So what has gelatin got to do with marshmallows not being vegan? I'm glad you asked!
Gelatin is made of collagen from pigs and cows! Because of that, regular marshmallows are something that vegans and vegetarians generally avoid.
Gelatin Alternatives For Making Marshmallows
One of the primary ingredients of marshmallows is gelatin. If you can't use it for vegan versions, how can we make marshmallows then?
For sure your vegan friends have already heard or are probably already using agar powder. It's a vegan substitute whose main components come from seaweed. It doesn't have any flavor or smell and works just like regular gelatin, except that it comes from a different source.
Another big difference is that agar can hold its' shape better than gelatin because it has a firmer texture. 
Vegan Marshmallows Are Not Just for Vegans
If you're not vegan, it doesn't mean you can't enjoy vegan marshmallows. There are many reasons you'll love this recipe.
The marshmallows will be sweet and fluffy just like regular ones.
They don't contain allergens such as dairy, gluten or soy.
They're fairly easy to make at home.
They're something you can serve to your guests with certain sensitivities.
Additional Tips
When drying the marshmallows, make sure that your oven is warm and not hot. Else, the marshmallows will melt.
Refrigerate the mallows to make them last for about 5 to 7 days.
For flavored marshmallows, you can try the following:

Chocolate marshmallows – add 2 tablespoons cocoa powder to the aquafaba fluff towards the end of the whipping. Also, add a tablespoon of cocoa powder into the powdered sugar for dusting.
Peppermint marshmallows – replace the vanilla extract with a teaspoon of peppermint extract.
Strawberry marshmallows – throw some chopped dehydrated strawberries into the food processor to make them into a powder. Add 2 tablespoons of the strawberry powder to the aquafaba fluff towards the end of the whipping.
Print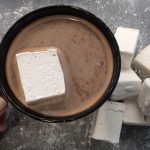 How to Make Vegan Marshmallows Without Corn Syrup
---
Total Time:

2 hrs 20 mins

Yield:

16

pcs

1

x
Description
Sweet and fluffy marshmallows that are perfect for vegans and vegetarians. The best part is there's corn syrup in these vegan marshmallows!
---
½ cup

aquafaba or the liquid from canned chickpeas

¼ teaspoon

cream of tartar

2 tablespoons

vanilla extract

⅔ cup

of water

1 tablespoon

agar powder

1 ¼ cup

granulated sugar

½ cup

powdered sugar
Other kitchen tools you will need:
Hand mixer or stand mixer
Saucepan
Rubber spatula

8

" x 8" baking dish
---
Instructions
Prepare the baking dish by dusting the bottom with powdered sugar. Set aside.
In a mixing bowl, whip the aquafaba and cream of tartar on high for 6 minutes or until it becomes fluffy.
Add the vanilla extract and whip for another 3 minutes or until stiff peaks begin to form. Set aside.
In a saucepan, bring the water and agar powder to a boil while stirring frequently. This should take around 3 minutes.
Add in the granulated sugar and boil for another 3 minutes. Stir constantly.
Remove from the heat and slowly add the sugar mixture into the aquafaba fluff. Make sure to get all of the syrup into the aquafaba by scraping the bottom of the saucepan with a rubber spatula.
Whip on low for 30 seconds until it becomes fluffier and more velvety.
Pour the mixture into the dusted baking dish.
Dust the top of the marshmallows with powdered sugar and let cool for an hour.
Cut the marshmallows into 1-inch squares and dust all sides with powdered sugar.
To dry the marshmallows more, heat the oven and turn it off when it reaches 150°F. Pop the marshmallows in the warm oven for one hour.

Store in an airtight container.
Notes
There is a resting time of 1 hour after cooking.
Prep Time:

5 mins

Cook Time:

1 hr 15 mins

Category:

Candy