How to Make Caramel with Brown Sugar
If I remember correctly, I was in high school when I first found interest in making caramels on my own. Sure, I love eating them! But there was something about caramel that frightened me.
I usually just sit in the kitchen watching grandma or mom do the tough work, and I'd just be there waiting to help in the tasting and cracking or storing or wrapping. Anything that doesn't involve me working on the hot sugar. But being a granddaughter of an amazing home baker, I came out of my shell eventually.
Honestly, if there's one thing I failed at most in the kitchen, it will be caramel! Looking back, I've had several tries where I gave up easily just because it's so easy to think I was doing it all wrong. I guess you've already read bits and pieces of it in my past posts like this caramel recipe that doesn't use cream or butter.
Good thing I'm not really good at giving up. Once in a while, I revisit the things I fail miserably at until I succeed in what I was trying to achieve. And my caramel is one of those.
Well, I actually have a memorable experience with caramel. Because of the many trials and errors I made, I discovered that making caramel with brown sugar is better than making it with refined sugar. And it's the same whether we're talking about caramel sauce or caramel chews.
One time, my brothers were playing outside and I was really bored in the house. I thought about giving caramel another chance. The thing is, I looked around and all we had in the cupboard was brown sugar.
But it's still sugar, isn't it? So for sure, we can still make caramel out of it. 
By this time, I've already made successful caramel batches a few times. And with that, it means I've made it in many, many times – with refined sugar, with butter, without butter, with cream, with milk, with vanilla, without vanilla. BUT, I've never made it with brown sugar before.
So there I was, doing yet another one of the many experiments I've had on caramels, and I didn't even think I'd come across something that will later become my favorite among all caramels.
Here's how to make caramel with brown sugar, which is way better than using refined sugar.
Caramel with Brown Sugar – What It's Really Called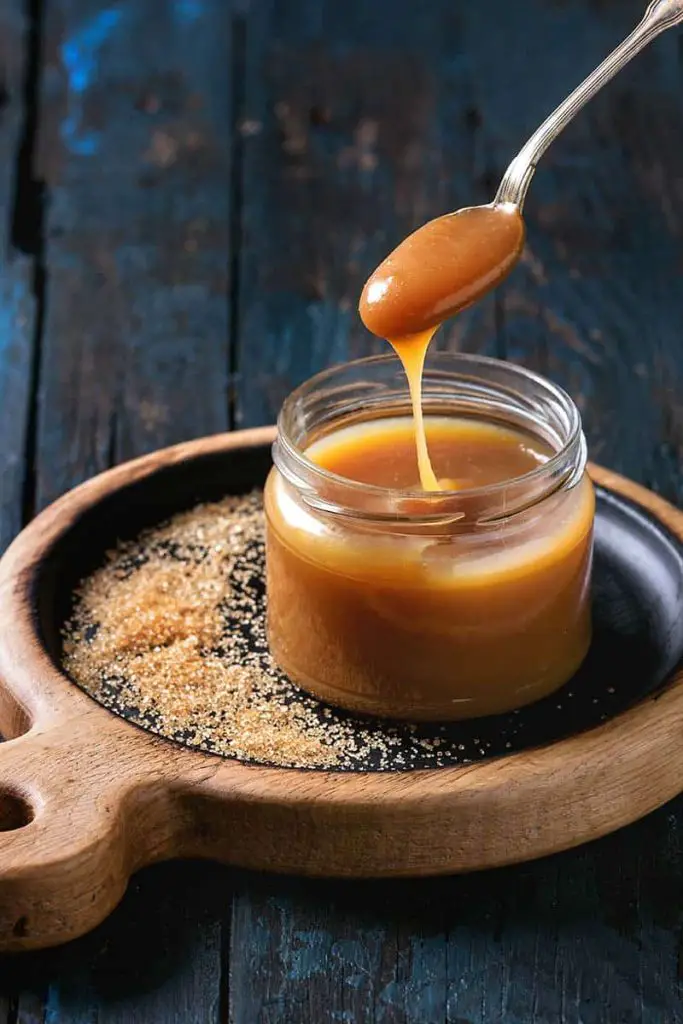 I was a teenager back then, so I actually thought that any caramelized sugar is called caramel. So for years, I was making my brown sugar caramel calling it caramel. 
All those years, nobody dared correct me. In my house, we call everything caramel.
Fast forward to the years I started to take my skills seriously, I came across this quick session which focuses on CARAMEL vs. BUTTERSCOTCH vs TOFFEE.
I always thought butterscotch has scotch in it and toffee is a richer chewy candy, I assumed I got it all figured out. A few minutes into the session, I found myself learning so many things already.
Apparently, caramel is made of white sugar with or without butter or dairy. Butterscotch, on the other hand, doesn't contain any scotch. Scotch, in this case, refers to how the candy was being cut back in the day. Its main ingredients are brown sugar, butter (more than what is needed in caramel), and salt. Meanwhile, toffee has the same ingredients as butterscotch but cooked longer.
What I've been calling brown sugar caramel was butterscotch all along! But for the younger me, I was enjoying nothing but brown sugar caramel, HAHAHA.
As caramel may or may not contain butter, it's the opposite of butterscotch. Butterscotch should always have butter, more than you'll be needing for caramel. And because of the molasses in brown sugar, it has a richer, deeper flavor – being the reason I found brown sugar caramel more delectable, to begin with!
Now, of course, I already know the difference and can make many versions of them myself. But since we're in the topic of caramels, here's my version of the butterscotch which I fondly call brown sugar caramel at home until now.
Additional Tips
If you've done many caramel sauces before, you'd notice that the mixture usually gets thicker as it cools. It's the same for butterscotch.
For this reason, I strongly recommend that you transfer the butterscotch sauce into a heat-proof container while it's still hot. If you're using a glass container, put a metal spoon in it to prevent the glass from cracking due to extreme heat.
Because the mixture thickens as it cools, do not overboil your butterscotch in an attempt to make it thicker. You will risk turning your sauce into candy chews if you boil for over 5 minutes.
I specifically mentioned the use of a heavy-bottomed saucepan. This is critical in making caramel of any kind because you'll need a pan that generates heat evenly to prevent the sugar from burning.
If you're making this sauce for adults, you may add a kick by stirring in 1 or 2 tablespoons of bourbon or whiskey during the time you'll be adding in the vanilla extract.
Print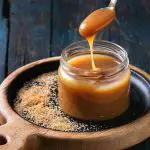 Caramel Made With Brown Sugar Recipe
---
Author:

Total Time:

15 minutes

Yield:

1 cup

1

x
½

stick unsalted butter

½ cup

dark brown sugar, packed

1 teaspoon

rock salt

½ cup

heavy cream

1 teaspoon

vanilla extract
Other kitchen tools you'll need:
Additional: Medium heavy-bottomed saucepan
Additional: Heat-resistant rubber spatula
---
Instructions
In a heavy-bottomed saucepan, melt the butter over medium heat.
Once the butter is melted, add the brown sugar, rock salt, and heavy cream.
Stir using a rubber spatula until the mixture is well-blended.
Occasionally scrape the sides of the pan and bring the mixture to a boil for 5 minutes.
Remove pan from the heat and add in the vanilla extract. Stir until well combined.
Store the caramel in a heat-proof container.
Additional Steps – please see above for details.
Prep Time:

5 minutes

Cook Time:

10 minutes

Category:

Candy