Last Halloween, my caramel apples were a hit. Even the adults love 'em, too!
What they didn't know is that I made them without corn syrup. Yes, you read that right – homemade caramel apples without corn syrup.
My friends and I were talking about homemade treats and they said they haven't made caramel apples without corn syrup before. So, I'm making this post for them and for all the others who are looking for a different take on this treat. I should also make all of you caramel lovers know that I also have a great recipe for caramel popcorn!
These are great for any occasion, not just for Halloween. Read on as I help you discover how we can do this sweet treat differently.
Don't forget these candy apple supplies:
36 Pieces Candy Apple Sticks, 36 Bling Rhinestone Sticker, 36 Candy Glass Paper, 1 Roll 25 Yard Glitter Ribbon, 109 Pieces Candy Making Accessory for Caramel Apple Making(Champagne Gold)
Bamboo stick: these natural bamboo skewers are approx. 5 inches in length, proper size to fit your needs; These skewers are sturdy and the surface is smooth without thorn by sanding treatment; Sticks...
Bling rhinestone decoration sticker: each one is approx. 2 mm that will make the overall more blinking; Backed with adhesive for easy peel and stick bamboo sticks; Shiny gold rhinestone make your food...
Glitter ribbons: measures approx. 2/5 inch in width and 25 yards in length, long enough to meet your multiple needs, you can trim it to your desired length, shiny decoration for candy fruits, DIY hair...
Candy glass paper: measures approx. 12 x 12 inches in length and width, soft and flexible to use proper size for candy fruits in small size or caramel fruits favors; It is recommended to keep your...
What you receive: package comes with 36 pieces bamboo sticks, 36 pieces bling rhinestone stickers, 36 pieces candy apply glass paper and 1 roll glitter ribbon, enough quantity and a convenient match...
Last update on 2023-11-21 at 04:54 / Affiliate links / Images from Amazon Product Advertising API
Why You Don't Need Corn Syrup to Make Caramel Apples
There's so much to dislike about corn syrup. It's an artificial fructose that is unnecessary; it increases the risk of fatty liver, obesity, and is linked to diabetes if consumption is excessive.
I try to get rid of it in all my desserts, and I've found just the perfect caramel recipe without using corn syrup.
It's a one pan recipe, using only three ingredients and a key weapon: a candy or oil thermometer.
The first time I tried caramel apples, I was intimidated by the skills I thought the treat requires.
To my surprise, it wasn't that hard after all!
What's a Good Corn Syrup Alternative?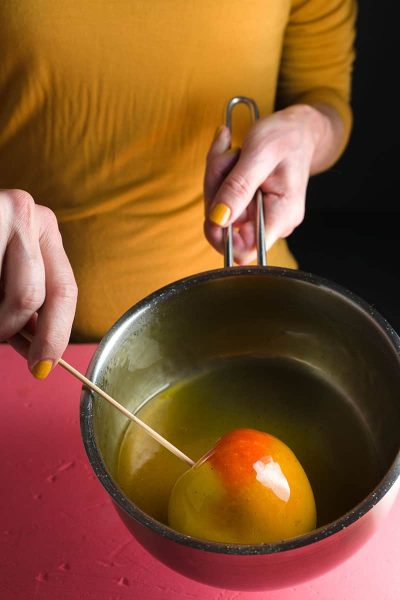 Caramel apples are popularly made with corn syrup.
If you try to make your own corn syrup at home, you can do so using water, sugar, and some cream of tartar. You boil all three at 250 degrees Fahrenheit, which is technically the soft crack stage of the caramel.
Store bought corn syrup is packed with processed stuff that is not good for you and can easily be replaced by other alternatives.
Basically, the cream of tartar in the corn syrup is what makes the caramel smooth and soft. Without it, the syrup will crystalize giving your caramel apple a coarse texture.
What's good about it is that there's a natural substitute for it that will give the same soft, caramelly texture that we always imagine our caramel apples to be.
I asked my friends if they had any wild guesses about what the alternative was, and they were surprised when they found out all I used was lemon juice. And they were even more surprised when I said that in the absence of lemon juice, you can even use vinegar!
Why have we been using corn syrup all these years when we can easily make them with something that's readily available in our own kitchens?
So there, I said it. Let's get rid of the corn syrup and use cream of tartar, lemon juice, or vinegar instead!
How to Make Homemade Caramel Apples Without Corn Syrup
One of the things that we often overlook when making caramel apples is the selection process of the apples to use.
I made the same mistake before and my treats were a disaster.
Do you have an idea what I'm talking about? I used waxed apples!
As you know, most store-bought apples are waxed to lengthen their shelf life and make them look more appealing.
These are not the kind of apples we should use in making caramel apples.
WHY? Because caramel will not stick properly on waxed apples.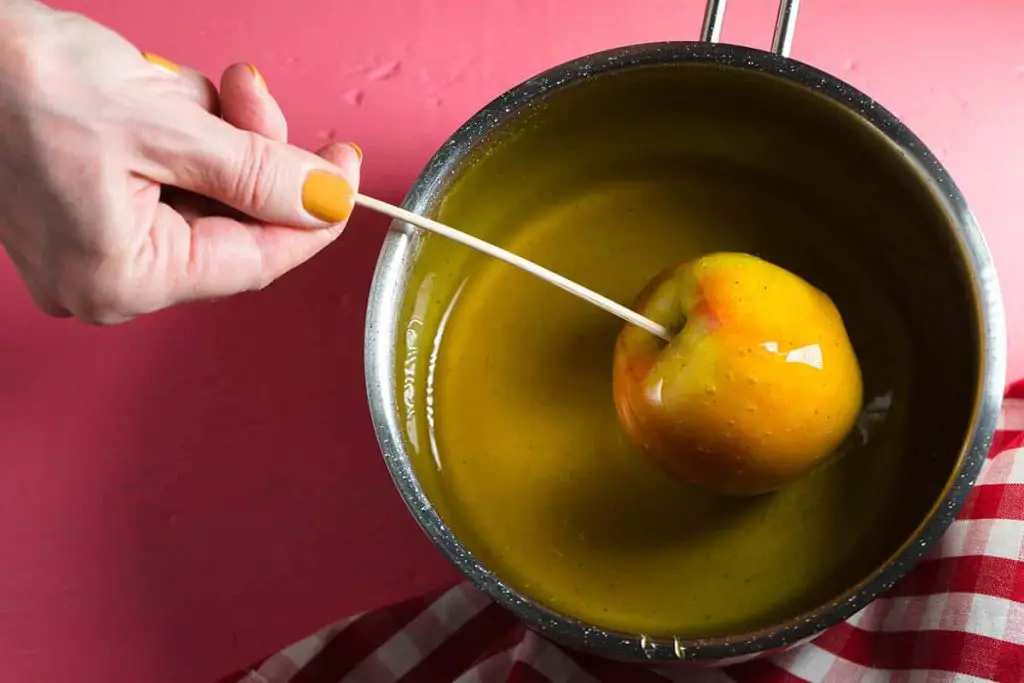 To make the caramel stick easily on the apples, choose the ones that are not coated with wax.
Don't worry if you can't find any – you can just dip the waxed apples in hot water for a few seconds to remove the wax. Make sure they're dry before you coat them with caramel.
The type of apple is up to you, any apple would work.
To start working on the caramel, boil the sugar mixture and use your key weapon to ensure you have the perfect temperature. If you want to add food coloring to your caramel for a spookier effect for Halloween, you can add them in as well.
Your candy thermometer is your best friend here. Use it to get the 300 degrees Fahrenheit (or exactly 149 degrees Celcius). Anything less than or over that will be a disaster.
This temperature is the hard crack stage of sugar, so you need to achieve that hotness for a perfect caramel for your apple. Dip the apples as quickly as you can at this point.
The key here is to coat the apples with just enough sugar mixture and avoid coating too much. Extra thick caramel coating will give your apples a hard candy-like texture which is not what we are looking for.
If you've worked on several apples and the caramel has started to harden, reheat it for a few minutes until it's soft again and perfect for coating more apples.
After coating each apple, don't forget to drain the excess coating before drying it.
Place the coated apples on top of a parchment paper to avoid sticking. Let the apples sit for at least 40 minutes before eating.
If you're storing your apples, place them in a well-covered box lined with parchment paper and refrigerate.
Print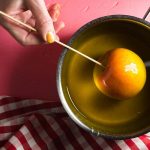 Impressive Homemade Caramel Apples Without Corn Syrup
---
Total Time:

19 minutes

Yield:

8

apples

1

x
Description
Last Halloween, my caramel apples were a hit. Even the adults love 'em, too! What they didn't know is that I made them without corn syrup. Yes, you read that right – homemade caramel apples without corn syrup.
---
8

apples, any variety will do

1 cup

granulated sugar

½ cup

water

1 tablespoon

lemon juice or vinegar or

½ teaspoon

of cream of tartar, whichever you prefer
Optional: 2 teaspoons food coloring
---
Instructions
Wash the apples and pat dry. If the apples are waxed, dip in hot water for a few seconds to remove the wax coating before drying
Put bamboo candy sticks in the middle of each of the apples
In a medium pot, add the sugar, water, lemon juice (or vinegar or cream of tartar), and food coloring on medium high heat
When the mixture starts boiling, lower the heat to medium and place the candy thermometer into the pot
Let the sugar mixture boil for about 12 more minutes until the temperature reaches 300 degrees Fahrenheit
Once the sugar mixture reaches the perfect temperature, remove the pot from the heat immediately
At this point, quickly dip the apples into the sugar mixture, swirling around and holding the apple for a few seconds to let the excess mixture drip. Place the apple on top of parchment paper. Repeat this process for the rest of the apples
If the sugar mixture has hardened before you're done with all 8 apples, reheat the mixture for a few minutes to loosen the mixture up
Let the apples sit for at least 40 minutes before serving
Prep Time:

5 minutes

Cook Time:

14 minutes

Category:

Candy