One of the kitchen tools I use most when making candy is the candy thermometer.
The CDN DCT450 digital candy thermometer, to be specific.
I've received some questions on what I use so I'll just post it here to address all the inquiries and also give some info on this product at the same time. 
So, I'll give you my CDN DCT450 digital candy thermometer review first, then we'll take a look at some general details.
What I Think Of The CDN DCT450 Digital Candy Thermometer
Well, I used to have a traditional thermometer, but sometimes its' readings weren't accurate enough. So I decided to upgrade to a digital thermometer. I haven't looked back.
When I was first searching for a digital thermometer, I went to Amazon and looked for something within a certain price range. There were thermometers less expensive than the CDN DCT450, but you get what you pay for.
So I looked for something within $20-$30 range and found CDN DCT450 to be one of the most popular within my specified range. It has over 2,300 ratings and was rated 4 out of 5 by the customers. I had to know why. You can check out the reviews here (Amazon link)
So I bought one.
Sale
Last update on 2023-11-29 at 14:32 / Affiliate links / Images from Amazon Product Advertising API
Product Information
Product Dimensions: 14 x 1.2 x 0.8 in.
Item Weight: 4 oz.
Shipping Weight: 4 oz.
Batteries: 2 LR44 batteries required but already included in the item
Features
7 pre-programmed candy stages
1 programmable all-purpose temperature setting
Dual progress display that shows the set temperature and the current temperature
Audio/visual pre-alert, target alert, and over-alert
Large easy-to-read display
Temperature range: 40 to 450 degrees Fahrenheit (or 4 to 232 degrees Celsius)
Auto-off feature
Exclusive adjustable stainless steel clip
Heath shield
Shatterproof
Temperature guide on sheath
ABS plastic case
Also works for deep fry temperatures
With all these features, I personally think this product is a steal for $24.99. So, I bought one and I didn't regret choosing this over the other brands/types in Amazon.
I've been using this for almost a year and it still functions without fail. And if you see the first feature saying it has 7 pre-programmed candy stages, well, it's true.
You simply have to select the button to pick your desired stage. The display courses through the following:
Thread
Soft ball
Firm ball
Hard ball
Soft crack
Hard crack
Caramel
Temp
Also, it has 3 sound alerts to ensure you get an accurate temperature. 1 beep means the temperature is 3 degrees Fahrenheit below the target temperature. 2 beeps mean the target temperature is reached. And 3 beeps mean the temperature has reached 3 degrees Fahrenheit above the target temperature.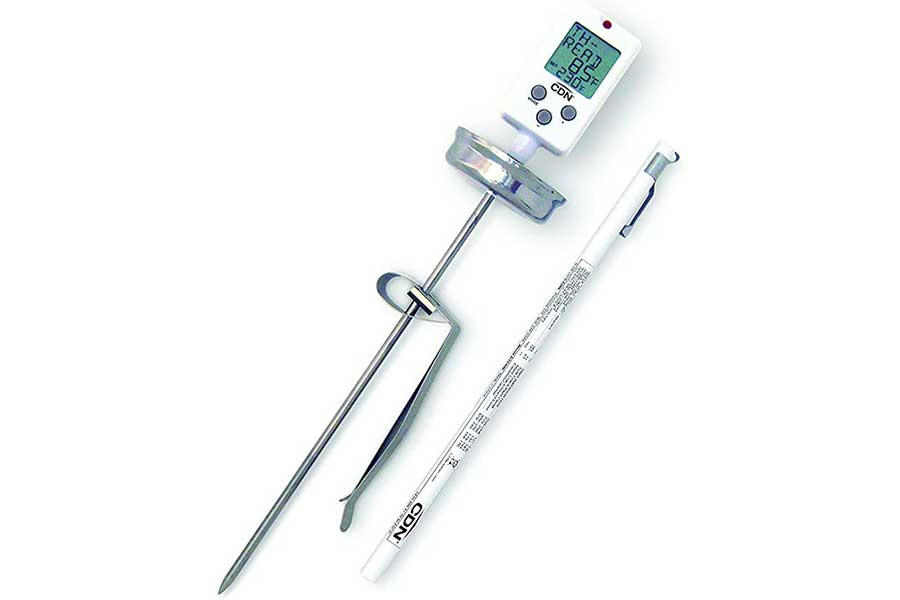 Given that we make a lot of candy, this thermometer works so well for me. It's very convenient and easy to use. Not only do I get the accurate temperature readings, but it also helps ensure I don't overcook my candy.
All in all, it was a good buy for me. That's my take on the CDN DCT450 candy thermometer.
If you're looking for a candy thermometer, check out the details below first so you will know exactly what you're looking in a candy thermometer.
What is a Candy Thermometer?
A candy thermometer is a cooking thermometer used to calibrate the temperature and the stage of a cooking sugar mixture. It's also called a sugar thermometer or jam thermometer.
Alternatively, the candy thermometer can also be used to measure the temperature of hot oil.
Types of Candy Thermometers
The different kinds of candy thermometers on the market are:
Liquid Thermometers
The old liquid candy thermometers are calibrated using water. The liquid stays in a bulb at the bottom and climbs as the temperature rises.

However, because water freezes at 32 degrees Farhenheit, manufacturers switched to mercury. When it was established that mercury contains toxic properties, the more modern thermometers make use of alcohol.

Side note: If you want to figure out what type of liquid is in your thermometer then look at the color of the liquid. Mercury is silver, while red is alcohol, and clear is water.
Dial Thermometers
Dial thermometer. It's a thermometer with a round scale and a metal pointer to calibrate the temperature.
To measure the temperature, you usually position the metal stem about 2 inches deep into the thickest part of the mixture or the food. As the temperature rises, the metal pointer will move up the calibration.
Digital or Electric Thermometer
These are thermometers that are designed to hold the calibration so you can read the calibration even when it has been removed from the food or pot.
Electronic thermometers remember the lowest or highest temperature or register what the temperature is during a specific point.
When you touch the probe onto the object you want to measure the temperature of, the digital display gives an automatic calibration.
Comparison of the Different Candy Thermometers
Comparing these three, I found a similar issue with liquid and dial thermometers: it takes a while for them to react to the changes in temperature. So when I used my liquid thermometer, my calibration is sometimes off.
Also, both are non-registering thermometers. Meaning, they cannot hold the temperature reading if it's moved some place where the temperature is different.
Because digital thermometers give instant calibration and are registering devices, they are easier and more convenient to use. 
Can I Use A Meat Thermometer to Measure Candy Temperature?
I've been asked this question several times. I mentioned that a candy thermometer can be used for oil, but measuring candy and meat is different.
First, the calibration of the meat thermometer is not enough for candy temperatures. Meat thermometers usually go up to a max of 220 degrees Fahrenheit (or 104 degrees Celsius) – and that's already too much for meat.
On the other hand, candy thermometers register temperatures of over 400 degrees Fahrenheit (or 204 degree Celsius).
Second, meat thermometers take a while to get an accurate reading so it's risky to use it for candy.
And third, you don't want to contaminate your candy with something that goes into semi-raw meat.
Sale
Last update on 2023-11-29 at 14:32 / Affiliate links / Images from Amazon Product Advertising API