Every time I get the chance to drag the kids to the kitchen, I see it as an opportunity to bond with them through my passion. They enjoy cracking eggs, mixing batter, rolling some dough, and I've recently introduced to them how to make hard rock candy.
It's easy, it's fun, and it brings out the inner scientist in you too! And while you're at it, it also helps the kids practice the virtue of patience. ?
More on How To Make Hard Rock Candy…
It takes hours before the sugar crystals start to form, but we left it for days, just observing them grow over time. It's like going back to the Christmas tree everyday to see if we have new presents. The excitement builds up until we get to open each one with so much joy.
Because we can play around with so many colors and flavors, there are so many ways to make it more fun. And mind you, the fun isn't just for the kids – it's for the kids at heart as well!
I was as excited as the kids were; I know how thrilled they were when we made gummy bears!
The Science Behind Rock Candies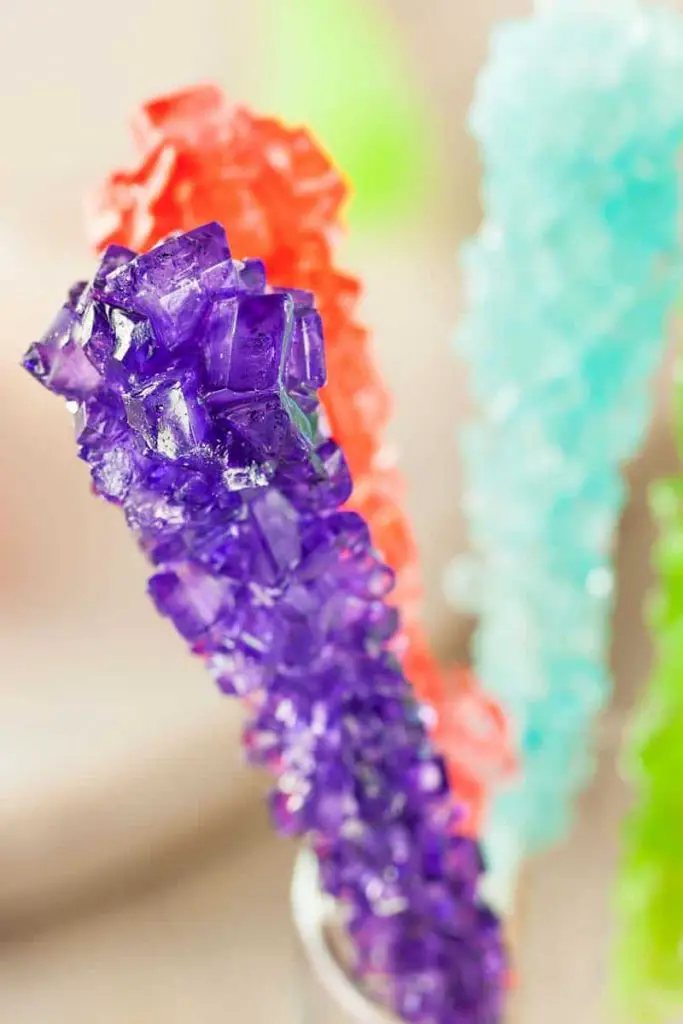 To see the bigger picture of how the sugar crystals are formed, let's look into the science behind it.
By heating a saturated sugar solution, you create a supersaturated solution that contains more solute (sugar in this scenario) than what can be dissolved by the solvent (in this case, water).
We usually use a stick or a string that we hang in the middle of a container containing the solution in order to have something where the crystals will form.
The solute will accumulate in the bottom of the container and will eventually form solid particles called precipitation. In this case, the sugar crystals are called precipitate.
Moreover, as the water cools and gradually evaporates, the sugar solution becomes even more saturated. In the process, the sugar molecules move slower and are actively forced back together and form more crystals.
In effect, more and more crystals are formed and this is how rock candies are made.
The buildup is made over time, thus this process does not only make a good "science project," but a perfect example of how "everything is made better with time."
While we were doing this, I was trying my best to explain to the kids the science of it all. Not only did we have yummy colorful treats, I was also able to impart added knowledge that they can use in school.
Hard Rock Candy Recipe
DESCRIPTION
Easy rainbow hard rock candies for any occasion.
Forming Time: At least 6 hours to 1 week
DETAILED INSTRUCTIONS
STEP 1 – Prepare your materials
Wash the glass jars thoroughly and rinse with hot water to ensure they are clean.
Assemble the glass jars before starting to heat the sugar mixture. To do this, cut the skewers at a height slightly taller than the jars.
Wet each wooden skewer with water and roll it in granulated sugar. This will serve as the base layer where the sugar crystals will form later on.
Clip the wooden skewer into the clothespin and hang it inside the glass. It should not touch the bottom of the jar and the gap is about 1 inch. Do this to all the skewers and set aside to dry while you prepare the syrup.
STEP 2 – Make the sugar syrup
Boil the water in a medium-sized pan and add the sugar one cup at a time. Stir the mixture after adding each cup.
Since we are going after a saturated mixture, you will notice that with each cup of sugar added, it will take longer to dissolve.
Repeat the process until all sugar has been added and completely dissolved.
Remove the pan from the heat.
STEP 3 – Add flavors and colors to the syrup
Any food coloring and flavoring should be added at this point. If you are working with multiple colors, divide the syrup based on the number of colors you will be using. Make each color represent a flavor.
In this recipe, I'm using 4 different colors and flavors so I divided the mixture into four. Before the syrup starts to cool down, add the different colors and its respective flavors and mix thoroughly.
You will have 2 candies of each flavor if you follow my mixture. But this step is completely optional, so you may adjust depending on your preference.
STEP 4 – Let cool
Leave the mixture to cool for 10 minutes.
Remove the skewers from the glass jars before pouring in the syrup.
After pouring some mixture in each glass, slowly hang the wooden skewers into each jar and ensure it has about an inch gap from the bottom.
STEP 5 – Leave in a cool place
Keep the glass jars away from direct sunlight and cover the top loosely with a plastic wrap.
The crystals should start to form within 2-4 hours and will grow more if left for a longer period.
If in case there are no crystals formed after 24 hours, you may reheat the mixture and add more sugar as you go along then repeat step 4.
STEP 6 – Allow the sugar crystals to grow
Let the crystals grow until you get the size you want. However, do not leave it out for too long because the crystals might start forming on the sides of the glass jar.
Once you have the preferred result, remove the wooden skewer from the jar and let it dry for a few minutes.
Store it in an airtight container or in plastic wrap.
FLAVOR VARIATIONS
There's so much you can do with the colors and flavors of hard rock candies. There are no limits; you can play around as much as you want.
But just in case you need some recommendations, here are some combinations that I've used before.
Blue for raspberry or blueberry
Light blue for gummy flavors
Pink for strawberry
Yellow for banana or lemon
Green for peppermint or green apple
Orange for cinnamon or buttered rum or maple syrup
Red for cherry
Purple for grape
The combinations are endless, let your creativity flow for more festive results.
Print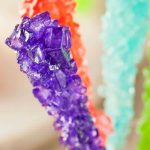 Hard Rock Candy Recipe
---
Author:

Total Time:

20 minutes

Yield:

8

candies

1

x
Description
Easy rainbow hard rock candies for any occasion. The instructions below are point-form. For more detailed instructions please scroll up on this page.
Forming Time: At least 6 hours to 1 week
---
4 cups

water

8 cups

white granulated sugar
Optional: 4 drops food coloring, 4 different colors
Optional: 1 teaspoon flavoring extract or oil, 4 different flavors
Kitchen tools you'll need:
8

wooden skewers

8

or more clothespin

8

tall narrow glass or jar
---
Instructions
Prepare your materials
Make the sugar syrup
Add flavors and colors to the syrup
Let cool
Leave in a cool place
Allow the sugar crystals to grow
Notes
Please scroll up for much more details on each step of the instructions.
Although this recipe only takes about 20 minutes to complete, it can 6 hours to one week for the crystals to finish forming. 
Prep Time:

20 minutes

Cook Time:

0 minutes

Category:

Candy