Your kids are going to love this Skittles Frappuccino
On lazy Saturdays, the kids and I would go out for brunch and lounge at the nearest Starbucks for drinks after.
I would have my caramel macchiato and they would have any caffeine-free drink of their choice. Usually, it's blended strawberry lemonade, white chocolate frappe, or hot chocolate.
Until recently, they discovered that there are secret Starbucks drinks that are off the menu and they've been asking the barista what's good for them. One day, they were given Skittles frappe and they've been ordering the same thing since.
It was fun at first until it made me realize I've been paying $12 for 3 drinks of the same flavor for several Saturdays now. I thought to myself, why don't I hack this drink and just make it at home?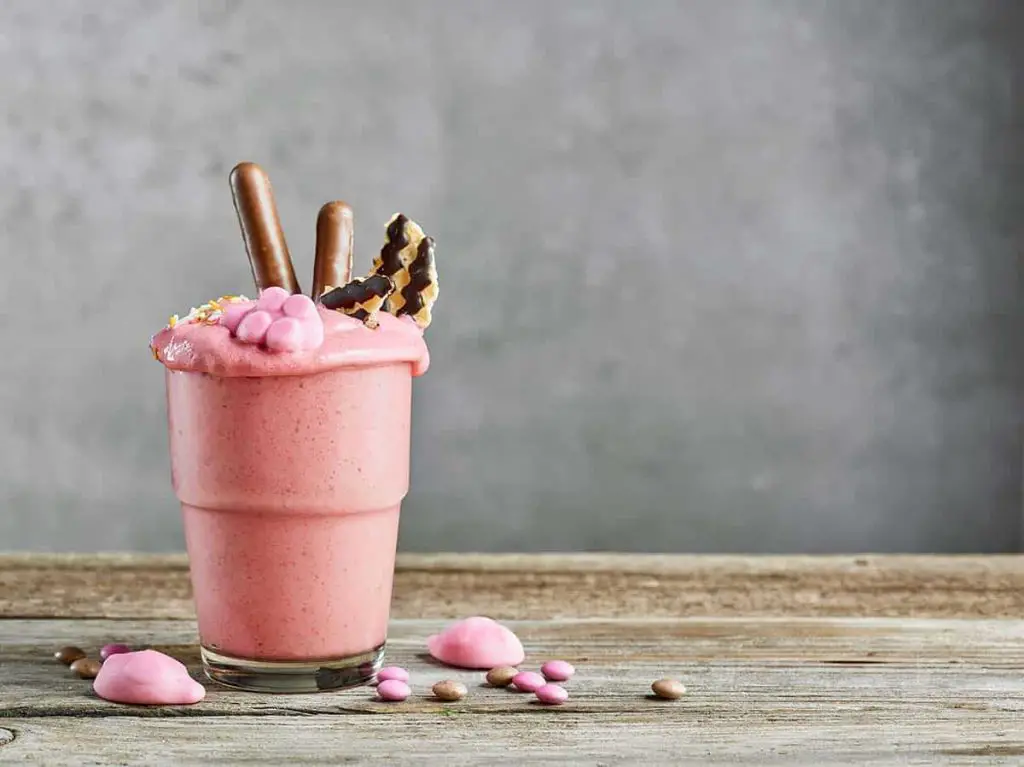 A frappe doesn't really take rocket science to make so I was able to match Starbucks' version with mine. Side note: you might also want to check my caramel sauce recipe for a DIY caramel macchiato you can easily do at home. Wink!
To make the long story short, the kids have been asking me for this drink at home and I suddenly had this bright idea to make this for an upcoming gathering with family and friends. 
As you know, it's almost Memorial Day and we all know what that means… It's cookout season!
For the past cookouts, apart from the dessert, I was always in charge of the drinks – both for the kids and the adults.
Well, it's always an easy win for the guys. Booze has always been the answer. But that's not always the case for ladies, is it?
We always used to go for wine or some ladies' drink. But over the years as we all began to have more kids over, we decided to leave the alcohol to the guys and just enjoy ourselves over coffee or some cool drink while we watch over the kids.
It's a win-win for all of us.
So… This year, I decided to do something both the ladies and the kids will be happy to have. This means I don't have to make separate drinks for everyone. Yay for me! Double wink!
But regardless if you're like me who's looking for some drinks for a gathering or you're just looking for ways to save bucks from Starbucks, then this is something you should try at home.
Here's how to make a Skittles frappuccino your kids or guests will love.
What's in a Skittles Frappe
There's no single recipe for frappuccinos all over the world. But technically, a frappe is a cold blended drink that looks like a slushie.
Most times a frappe has a touch of coffee. But really, it can also be any fruit juice blended with ice with or without fruit.
In the case of Skittles frappe, it's a frappe without real Skittles. HAHA!
A Skittles frappe is basically a strawberry and creme frappe, classic syrup replaced with vanilla and raspberry syrup. READ: classic syrup equals sugar water.
It's called Skittles frappe because it's basically a frappe meant to taste like and remind us of Skittles. Genius!
And why not? The color would definitely remind us of one of the bright colors of Skittles, so let's not make our lives complicated and just leave it at that. LOL.
Here's the high calorie version of the Skittles Frappuccino
Alternative
If you're feeling a little careless about calories and wouldn't mind a richer version, you may use the following ingredients.
2 cups vanilla ice cream
2 cups fresh or frozen strawberries
1 cup milk
2 cups ice
Optional: whipped cream
The instructions are the same. Put all the ingredients (except whipped cream) in the blender and blend until smooth.
What I like to do with this version if I'm using frozen strawberries is to exclude the ice first. Since frozen strawberries are already icy, I would blend it with the ice cream and milk and see if I still need to add in the ice.
Most times I would just scrap the ice from the recipe. Other times, if I feel it's too rich for me, I add in a little bit of ice.
ADDITIONAL TIPS
For your ladies' drink, you might need a little adventure and add in a little bit of alcohol. A little buzz will be fun for you and your guests.
A little rum in this mix wouldn't hurt. A splash of rum would make Skittles frappe daiquiri. Vodka or gin would also do the trick.
If you're using clear cups for the kids, swirl some raspberry or strawberry syrup on the side of the cups for a sweeter treat.
Print
Skittles Frappuccino Recipe
---
Total Time:

5 minutes

Yield:

2

–

16

oz. Servings

1

x
Description
Save big bucks with this Skittles frappuccino recipe you can easily make at home. Yes, this copycats the one made famous by Starbucks and can be found on their "secret menu". And now it can also be found in your kitchen 🙂
---
4 cups

ice

1 ½ cups

of milk

6 tablespoons

strawberry sauce or strawberry syrup

4 tablespoons

vanilla syrup

6 tablespoons

raspberry syrup
Optional: strawberries
Optional: whipped cream
---
Instructions
The fun part here is that there are no complicated steps in making this drink. Just whip all the ingredients (except the strawberries and whipped cream) together in a blender until the whole thing becomes smooth.
You can serve it with or without whipped cream and sliced strawberries on top, whichever your guests prefer.
What I like to do here is serve smaller cups to the kids and replace sliced strawberries with rainbow sprinkles. For some reason they enjoy it more that way 😉
Equipment
Prep Time:

3 minutes

Cook Time:

2 minutes

Category:

Candy