My household loves marshmallows.
I've made several marshmallow posts on this blog – from making mallows soft again to dehydrating marshmallows, making marshmallows without gelatin for my vegan friends, then recreating that vegan marshmallow recipe without corn syrup.
You know how I try to avoid corn syrup in what I whip up in the kitchen. Some of the posts here contain corn syrup as an ingredient but usually revisit those posts by remaking a corn syrup-free version of the recipe.
I mentioned previously how I rarely make marshmallows at home. When I do, it's usually when we have vegan friends coming over. Clue: S'mores!
Store-bought marshmallows are really convenient and aren't really expensive, right? Why would I want to make them at home when a grocery run makes everything easier?
The answer is obvious. Store-bought marshmallows are packed with corn syrup. If you haven't read much on how they're made, try looking it up and you'll understand why I try to avoid store-bought as much as I can. 
Also, store-bought marshmallows are made of chemically modified cornstarch, artificial coloring, artificial flavoring and dextrose on top of the sugar and corn syrup. 
So there. While it seems like an innocent treat, it's packed with ingredients you can and should live without.
But healthier marshmallows aren't readily available in stores, are they? Unfortunately, they are hard to find. So if you want to indulge without feeling all the guilt, you have to make your own marshmallows at home using only ingredients that you feel comfortable using.
In my case, I'm making this batch for my kids so it's okay for me to use gelatin. In this recipe, I'll also be using egg whites. In case you're wondering, let me tell you why.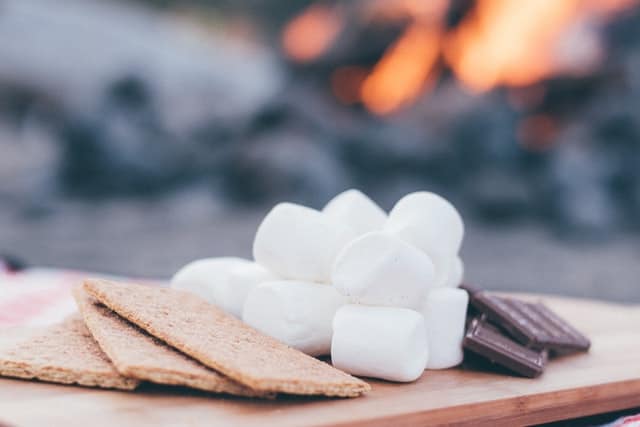 Egg Whites In Homemade Marshmallows
Although it's not the main ingredient for homemade marshmallows, adding whisked egg whites makes a whole lot of difference. 
It makes the mallows more pillowy soft and fluffy. It also makes the mixture easier to pipe, if you're using piping techniques for different marshmallow shapes.
You see, when the marshmallow mixture is whisked without egg whites, it sets rapidly and this makes it generally more challenging to handle. The presence of whisked egg whites delays the setting a little bit, allowing you to pipe it into shapes if desired.
Lastly, it melts more easily in your mouth, making them enjoyable to eat.
Additional Tips
Refrigerate the marshmallows to make them last for about 5 to 7 days.
Flavor variations:

Chocolate marshmallows – add 2 tablespoons cocoa powder to the egg whites towards the end of the whipping. Also, add a tablespoon of cocoa powder into the powdered sugar for dusting.
Peppermint marshmallows – replace the vanilla extract with a teaspoon of peppermint extract.
Strawberry marshmallows – throw some chopped dehydrated strawberries into the food processor to make them into a powder. Add 2 tablespoons of the strawberry powder to the egg whites towards the end of the whipping.
Print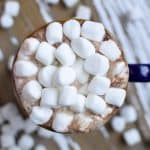 Marshmallow Recipe With Egg White
---
Total Time:

6 hrs 30 mins

Yield:

Up to

24

pcs

1

x
Description
How to make marshmallows with egg whites and without using corn syrup. With this easy homemade marshmallow recipe, you'll be putting smiles on your kid's faces.
---
8 tablespoons

water

2 tablespoons

unflavored gelatin powder

2 ¼ cups

granulated sugar

1 ¼ cups

of water

1 teaspoon

maple syrup

1 teaspoon

vanilla extract

2

egg whites

⅓ cup

powdered sugar

2 tablespoons

corn starch
Other Kitchen things you will need:
Heavy-bottomed saucepan

Baking pan greased with vegetable shortening or coconut oil

Pastry brush

Candy thermometer

Electric mixer

Spatula
---
Instructions
To bloom the gelatin, sprinkle it into 8 tablespoons of water and set aside.

In a heavy-bottomed saucepan, mix the granulated sugar and the remaining water and heat over medium heat. Stir continuously.

 

Once the sugar is fully dissolved, add in the maple syrup. Increase the heat until the sugar mixture starts simmering. Brush the sides of the pan with a wet pastry brush to prevent crystallization.  

Allow it to boil until it reaches 240 °F (or 115 C) on the candy thermometer. 

Remove from the heat and let it rest for about 2 minutes.

Add in the gelatin mixture and stir until completely dissolved and well combined.

Transfer the mixture into a bowl and allow it to cool a little bit. Stir occasionally to prevent skin from forming.

Beat the warm mixture in the electric mixer until it becomes light and thick.

Add in the vanilla and stir until well combined.

On a separate bowl, beat the egg whites until it forms stiff peaks. 

Using a spatula, fold the egg whites into the sugar mixture until well combined.

Pour the mixture onto the greased baking pan and allow it to sit for at least 6 hours.

Mix the powdered sugar and cornstarch. 

Cut the marshmallows into desired shapes and dust all sides with powdered sugar.

Store in an airtight container.
Notes
There is a resting time of 6 hours after the cooking.
Prep Time:

10 mins

Cook Time:

25 mins max