Chewy Caramel Recipe without Condensed Milk
If there's one thing I like as much as chocolates, it would be caramel. Just as I've posted several chocolate recipes this blog, there were several caramel recipes, too. And I'm not stopping there.
If you haven't read any of them, feel free to browse. There are several caramel-inspired goodies you may find interesting to do alone or with the kids. 
I have a recipe for caramel apples, stovetop caramel popcorn, how to make caramel without butter or cream, and brown sugar caramel also known as butterscotch.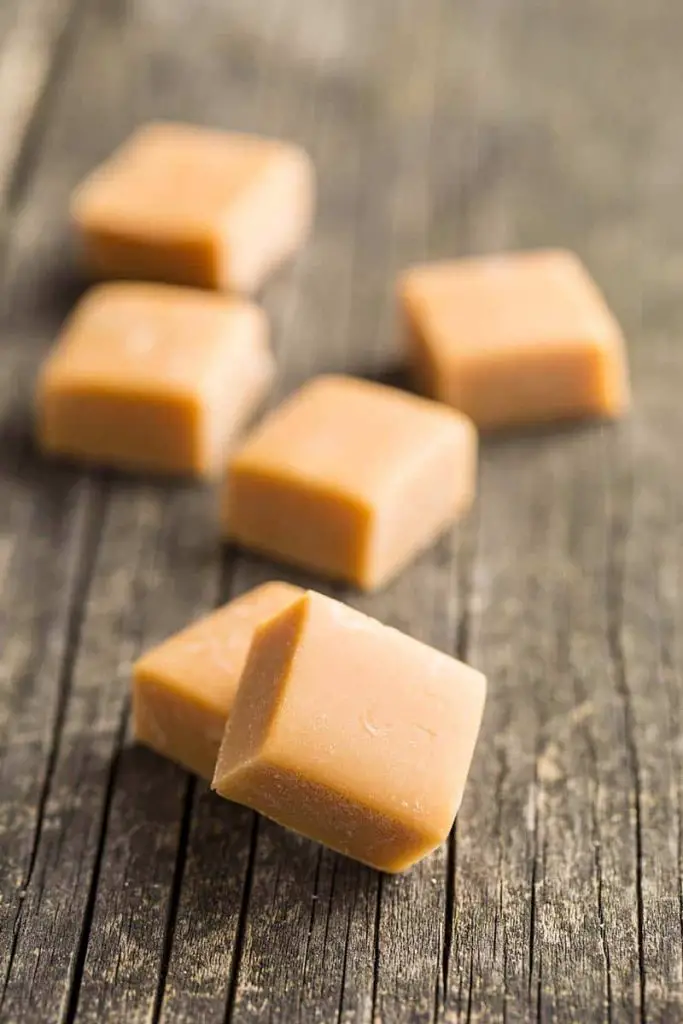 These recipes use different ingredients and even different techniques, but everything is easy to make with ingredients that are easy to find.
I kind of have this affinity to decadent things that are easy to make so I can enjoy them with the kids, hoping that one day my daughter will pick up some skills and follow suit.
I always have this wish that our family recipes will go on for generations. This is also the reason why I try to preserve some of my grandma's recipes so I can pass it down to the kids.
I find pride every time I share a recipe that I learned from my grandma or mom. It makes me feel my time in the kitchen as a kid has given me so much.
Yes, this blog I put up gives me so much more than pride knowing I can share my favorite recipes not only to my kids, but also to anyone who finds joy in the kitchen.
This time, I am going to show you how to make chewy caramel without condensed milk. 
Now, I know that the recipes showing fast and easy caramels sometimes use condensed milk. But this recipe is a classic so I'm ditching condensed milk. I'll share with you something that's as easy to make, but has a richer flavor.
This how to make chewy caramel recipe without condensed milk is another family favorite that we've been making for friends, just like our peanut brittle.
The first time I gave my friends some of my homemade caramel chews, they thought they were store-bought. Of course, they're not! I proudly told them my mom made it using another of my grandma's recipes, and from there they look for mom every time they drop by the house.
But that was way back in college. I practiced doing it on my own and was able to nail it after the second try. So, along with peanut brittle, I also give my friends some chewy caramels during the holidays.
I make big batches, spend time with the family wrapping each one with wax paper, wrap them up nicely with a ribbon, write personal messages, and hand them personally to friends. What a sweet way to share something! 
I even made some for the kids' school fair several times and it's always, always a hit.
Oh, and I almost forgot! This recipe doesn't contain any corn syrup! Just like I've been saying in many of my posts if I can help not using corn syrup, I'd surely ditch it.
The original recipe from grandma used to have corn syrup, given that it wasn't established back in the day how addictively unhealthy high fructose corn syrup is. But we came to an agreement to tweak the classic up a bit, and we were able to remake the classic without even a drop of corn syrup. Oh, happy day!
I know I've probably talked too much, so I won't keep you waiting any longer. Here's how to make chewy caramel without condensed milk – and corn syrup!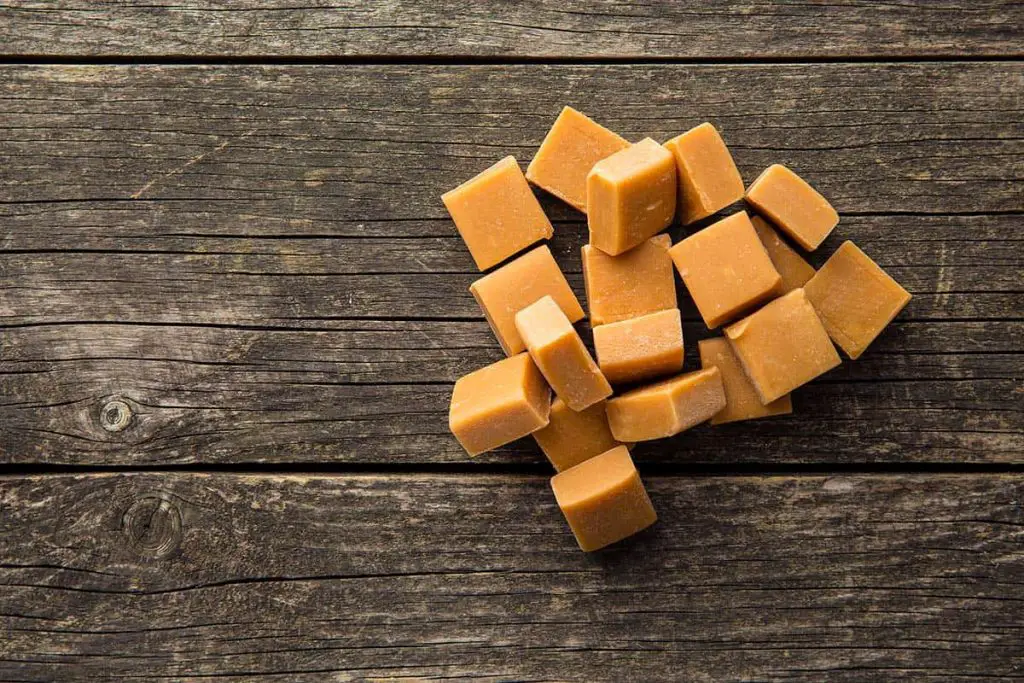 A Few Reminders in Making Caramel
I always do this before I proceed. I want to make sure I get the reminders across so you will not fail in making your caramel.
If you've read this before, feel free to skip to the recipe portion. But if you need a little refresher, read on. I'll make this real quick.
Use a tall heavy-bottomed pot. Heavy-bottomed pots generate heat evenly, so this will be a big help in preventing the sugar from burning.  Using tall pots is also important to ensure your mixture doesn't spill over the sides.
Don't be intimidated by the bubbles. The mixture has a tendency to get too bubbly when milk or cream is added. You'll thank yourself for following #1.
Don't let the nasty lumps stop you. When you add in the cream, the sugar may turn into lumps. Just keep going and they will dissolve on their own.
Give your mixture full attention. Don't risk burning your sugar by multi-tasking. Caramel curdles easily, so be sure to keep your eye on the mixture.
Print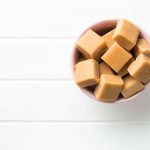 Chewy Caramel Recipe Without Condensed Milk
---
Total Time:

30 minutes

Yield:

40

–

50

caramels

1

x
Description
In this recipe you will learn how to make chewy caramel without condensed milk. I've been wanting to make this recipe for a long time. I love taking classic recipes and changing them a little bit here and there. Plus, it's always a good idea to know different ways to make chewy caramel because you may not have what you need in the pantry when you get the impulse to make them.
---
1 ½ cups

heavy cream

2 cups

brown sugar

2 teaspoons

kosher salt

2 teaspoons

vanilla extract
Other kitchen tools you'll need:
Heavy-bottomed pan

3

x3-inch squares wax paper
---
Instructions
Prepare all the ingredients before starting with anything. Place each of them in small bowls and should be within easy reach the moment you need them.
Also prepare a baking sheet lined with greased parchment paper. I usually use cooking spray to grease my lining. You will need to pour the caramel onto the baking sheet right away when it's ready so you won't have time to line the sheet later.
Mix the cream, brown sugar, and salt in a tall heavy-bottomed pan.
Bring the mixture to a boil over medium heat, stirring constantly.
Put in the candy thermometer and continue stirring until the temperature reaches 250 degrees Fahrenheit.
Remove the pan from the heat and quickly add in the vanilla extract. Stir until well-combined.
Immediately pour the mixture onto the lined baking sheet and spread evenly.
Let the caramel rest for at least 8 hours.
Using a greased knife, cut the caramels into your desired shapes.
Wrap each piece using the wax paper.
Store in an airtight container at room temperature. Consume within one week.
Prep Time:

5 minutes

Cook Time:

25 minutes

Category:

Candy