How to Make Chocolate Bars with Cocoa Powder
There's just so much you can do with chocolates. I've posted several chocolate recipes in the past weeks, but I just can't seem to get enough.
From making dark chocolates, making dark chocolate sweeter, how to make milk chocolate from dark chocolate, how to melt chocolates with coconut oil, to how to make hard chocolate coating from cocoa powder.
There's a lot to keep you preoccupied with chocolates there for a bit. And if that's not yet enough, here's how to make chocolate bars with cocoa powder. Another recipe from my chocolate making series.
In this post, I'll give you two versions – a healthy dark chocolate one listed above, and an indulgent milk chocolate variant below, both recipes you can make using cocoa powder.
You see, chocolate is versatile. It's easy to customize the flavors, which means you can play around with almost anything.
If you want mint chocolates – which I really love – it's easy to do that. Nutty chocolates? Chocolate chai? Fruity chocolates? Chocolate truffles? No problem.
There are hundreds and hundreds of chocolate variants on the market today, but you can make them at home any time!
There's no need to hoard from the stores, really. With just a few ingredients and kitchen tools, you can do anything chocolatey and save big bucks.
It's a great activity for the kids, too. With just minimal supervision, your kids will surely enjoy it as much as my kids do.
To ensure there's something for you and the kids to enjoy, the two recipes I'll share with you are also something we all do together in the kitchen as a family.
Trust me, they are very simple to make. No sophisticated equipment and complicated ingredient needed.
Using something that's normally found in the pantry is one of my specialties. So let's make do with what you have and turn it into something decadent and addictive in a good way.
What You Need to Make Homemade Chocolates from Cocoa Powder
Making homemade chocolates only requires a few basic ingredients. This is what makes me love chocolate making all the more.
My dark chocolate recipe is a healthy version. All you need is three ingredients.
Cocoa powder – use the unsweetened variety. I usually use Dutch-processed cocoa powder because it's less acidic. But you can use any type, really, as long as it's unsweetened.
Coconut oil or cocoa butter – coconut oil adds a subtle flavor to the chocolate and works the same way as cocoa butter. Whatever you prefer among the two, your chocolate will come out the same.
Liquid stevia or vanilla stevia – as we are working on a healthier version, our sweetener must be sugar-free. 
On the other hand, the milk chocolate variant requires a different sweetener and some added ingredients. But don't you worry because it's also easy to find and most likely already available in your pantry.
Cocoa powder – same as above, I prefer to use Dutch-pressed cocoa powder, but any unsweetened variant will do.
Coconut oil or cocoa butter – you may use whatever is available or whichever you prefer.
Milk powder – needless to say, this ingredient is what gives the chocolate the milky flavor. I have ready non-fat milk powder in my pantry, but you can use whatever is available to you.
Powdered sugar – to give your chocolate the sweetness it deserves. 
Vanilla or chocolate extract – this is optional, but I recommend using this.
Adding mix-ins will make it more interesting so you might want to check with the kids in case they have something in mind.
Basic Steps in Making Homemade Chocolate Bars
Since I'm doing this with the kids and I'm recommending that you make this with yours, here are the basic steps they will need to do with you.
These are very simple and would need minimal supervision, except for the part where heating is involved.
Melting. As you can probably imagine, we need to melt the coconut oil so we can incorporate it with all the other ingredients together. It can be done in the stovetop but using the microwave is the fastest way to go.
Stirring. Very basic and one of the things the kids enjoy the most. The chocolate mixture needs to be stirred so we can achieve a well-blended mixture.
Pouring. As we would need to transfer the chocolate mixture to the candy molds, then we need to do some pouring.
Freezing. The homemade chocolate must be placed in the freezer for about an hour so it will set.
While these steps are basic to us, these are very fun for the kids. And since we are talking about chocolates here, for sure this will keep them interested and busy in the kitchen.
Print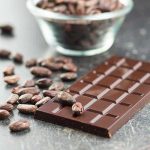 Make Chocolate Bars with Cocoa Powder
---
Author:

Total Time:

1 hour 10 minutes

Yield:

3

–

4

bars

1

x
Description
Decadent chocolate using basic pantry ingredients.
---
¾ cup

of coconut oil

¾ cup

unsweetened cocoa powder

¼ cup

of milk powder

1 cup

confectioner's sugar

1 teaspoon

vanilla extract
---
Instructions
Melt the coconut oil in the microwave for about 30 seconds in medium-high heat.
A

dd in the sugar and stir until well combined.

Add the cocoa powder and milk powder at the same time. Stir to incorporate all the ingredients together.
Add the vanilla extract and stir again. If you want to add mix-ins such as mallows or sprinkles, add them at this point.
Pour the mixture into the candy molds of your choice.
Freeze the chocolate for at least an hour.
Serve and enjoy.
Store leftovers in an airtight container.
Notes
You may have noticed that the prep time and cook time combined don't equal the total time. There is a 1 hour of rest time that this recipe plugin won't let me specify. So the extra hour of time is letting the chocolate rest.
Prep Time:

5 minutes

Cook Time:

5 minutes

Category:

Candy