Last Easter, I made several treats. My jelly beans are always a crowd favorite, and so I made a bunch of them this year.
When it comes to who enjoys jelly beans, age really doesn't matter. I hope you would agree that that is an all-ages treat. 
Personally, I love picking my favorite flavors, and picking them by color makes it more fun.
When I was a kid, I would get one color each and I would guess the flavor. Seeing how my kids play this game at home makes me laugh because I always thought I was weird for doing it.
But it's always fun and jelly beans always bring happiness to every sweet tooth. So one day, I came across some jelly bean candy molds and thought I'd experiment with it… the rest is history.
Long story short, I've been making my own jelly beans at home ever since then.
Well, honestly, making these treats take a little time. But besides that, it's easy to make – we just need to practice a little bit of patience here. 
What's good about this is you can always make big batches ahead of time and store them for later. That's what I actually did for Easter. Only problem is that they almost didn't last till Easter because we were all sneaking and getting a mouthful every now and then!
So if you're looking for something you can easily make, here's my recipe on how to make jelly beans that your kids will love. Maybe you can even slip in a little something for the grownups too! If jelly beans aren't your thing… teach your kids some science while making hard rock candy!
Experiment as Much as You Want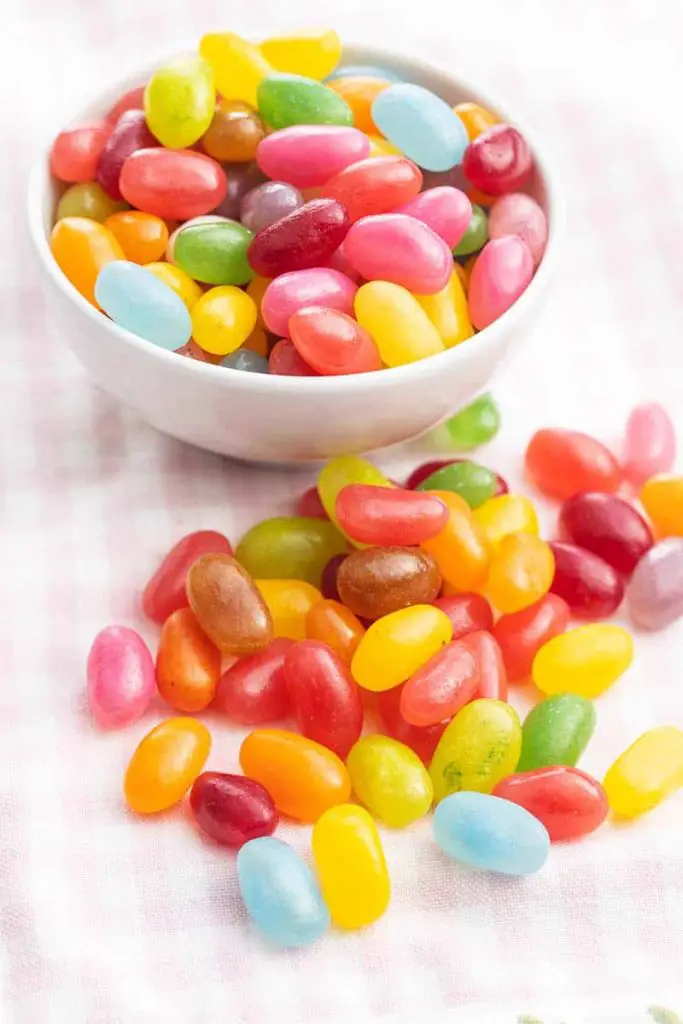 What I like about making jelly beans is that the flavor options are endless. If you're making them only for kids, then you can use all kid-friendly flavors. From all the fruit flavors you can think of to marshmallow and popcorn to bubble gum and coffee… or even your favorite soda!
If you're making it for your boyfriend or husband or college kids' all-nighters, poker nights, or any get-together, you can make some adventurous flavors like margarita, rum & coke, whiskey, gin, and beer. Grownup flavors are as fun to play with as kids flavors.
And if you're feeling like pulling a little prank, I'll let you in on a little secret. One Halloween, we did this "trick or treat" to everyone who dropped by our place.
We gave yummy jelly bean treats with assorted regular flavors to kids, while we gave "tricks" to the adults. And by "tricks," I mean jelly beans with weird flavors such as toothpaste, BBQ seasoning, red hot chili pepper, garlic powder, burrito, vinegar, and gravy.
It was a blast, some even came back for more. Cool way to pull pranks, isn't it? You can even use it in a game where you let your guests guess the flavors you came up with.
That's what makes this treat so versatile. At first you'd think it's only for kids, most known for Easter. But if you really look into it, you don't need Easter to indulge in this treat. And you don't have to stick to the classic flavors as well.
With homemade jelly beans, your only limitation is your imagination.
How to Make Jelly Beans That Your Kids Will Love
Description
Homemade jelly beans you can make any time using any flavor you can think of.
Resting Time: 1 hour
Detailed Instructions
STEP 1 – Bloom the gelatin
In a medium saucepan, pour the juice and sprinkle the gelatin evenly on top. Let it bloom for 5 minutes.
STEP 2 – Heat the mixture
Heat the mixture over medium heat and gently stir until the gelatin has dissolved completely. Add in the sugar and continue stirring gently until dissolved.
STEP 3 – Add flavor and color to the mixture
Remove the saucepan from the heat and divide the mixture into 8 small bowls. Quickly add in the flavoring extracts and their corresponding colors to each bowl. 
For this recipe, I used the following:
Yellow for pineapple
White for marshmallow
Red for strawberry and cherry. If you want to use different shades for each flavor, use different amounts of coloring depending on your preference.
Yellow and white for popcorn
Green for lime
Blue for raspberry
No coloring for vanilla, but you may also use white if you prefer
STEP 4 – Spray some cooking spray over the candy molds
This is an important step you shouldn't miss. Spray a little bit of cooking spray over the candy molds to keep the jelly beans from sticking.
You will thank me later for doing this.
STEP 5 – Pour the mixture into the molds
Using a dropper, pour the sugar mixture into the candy molds. Leave a little space and do not fill to the top.
STEP 6 – Allow the jelly beans to rest
Chill the candies and let it set. This should only take about 1 hour.
STEP 7 – Unmold and Store
Once the jelly beans are ready, unmold each one and store in an airtight container.
FRUIT JUICE ALTERNATIVES
You don't really have to stick to apple or white grape juice for this recipe. You may use many others such as:
Cranberry
Pineapple
Fruit Punch
Margarita
Pina Colada
Lemonade
Orange 
Mojito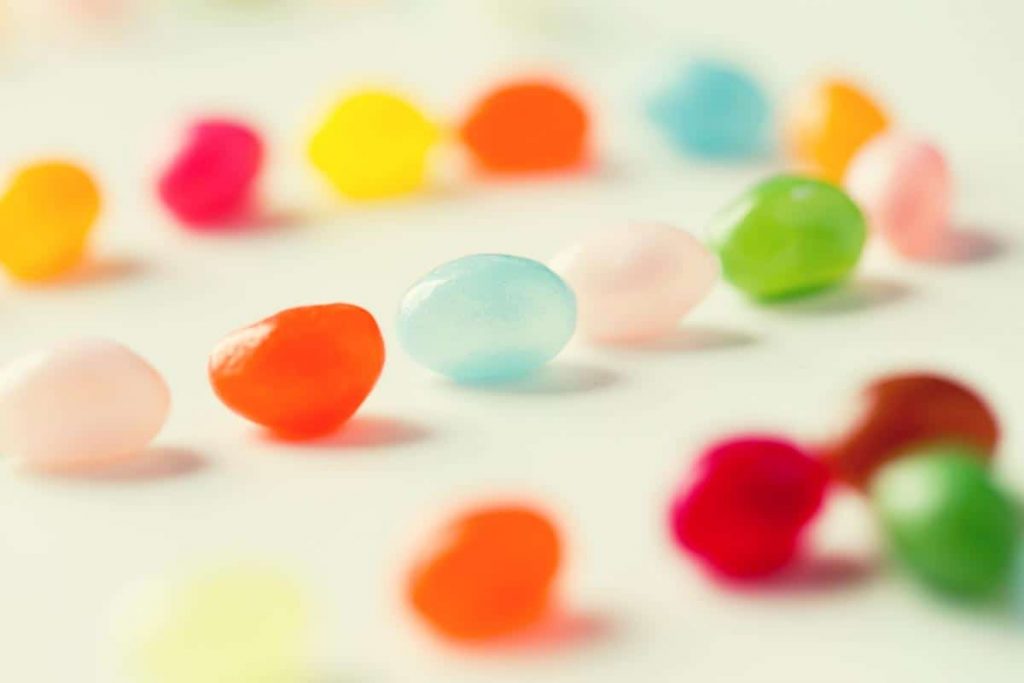 FLAVOR VARIATIONS
You can play around with as many flavors and colors as you want. You may use whatever is available, a little trial and error wouldn't hurt.
But if you need some suggestions, here are some combinations I usually use.
Blue for blueberry
Light blue or light pink for tutti frutti
Yellow for banana or lemon
Green for peppermint or green apple
Orange for cinnamon or buttered rum
Purple for grape
White for coconut
Red for cayenne pepper
Print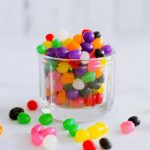 Jelly Bean Recipe
---
Author:

Total Time:

20 minutes

Yield:

120

jelly beans

1

x
Description
Homemade jelly beans you can make any time using any flavor you can think of.
---
4 cups

apple or white grape juice

12 tablespoons

Knox unflavored gelatin powder

½ cup

white sugar
Flavoring extract of your choice – for this recipe I used pineapple extract, marshmallow extract, strawberry extract, popcorn extract, lime extract, raspberry extract, vanilla extract, cherry extract
Food coloring to match your flavors – for this recipe I used yellow, white, red, green, blue
Kitchen equipment you'll need:
2

jelly bean candy molds
Dropper

8

small bowls
---
Instructions
Bloom the gelatin
Heat the mixture
Add flavor and color to the mixture
Spray some cooking spray over the candy molds
Pour the mixture into the molds
Allow the jelly beans to rest
Unmold and Store
Notes
Please scroll up to see each instruction step explained in detail.
Prep Time:

10 minutes

Cook Time:

10 minutes

Category:

Candy