How to Make Marshmallows Recipe Without Gelatin
Okay, so it's almost the cookout season. I already have my Skittles frappe ready, as you may have already read in one of my previous posts.
I automatically get assigned to taking care of desserts and drinks, and since the recipe for the drinks is ready, I only had to take care of the dessert.
I need the main dessert, but of course, what's a cookout without smores? It's a non-negotiable. A constant to every cookout.
But the thing is, I have vegan and gluten intolerant friends that can't have regular smores. For several gatherings, I found it a bit sad that somebody can't enjoy food the way we do because of some restrictions.
So I decided to make marshmallows they can indulge in so we can all dig in and enjoy the same food without thinking of allergies and other constraints.
This is a marshmallow recipe without gelatin that is easy to make and tastes just like the regular ones. And you know what, you won't even notice the difference!
It gives me happiness when people enjoy the food I serve, and I'd gladly make these gelatin-free marshmallows for my beloved friends.
Why Marshmallows Are Not Vegan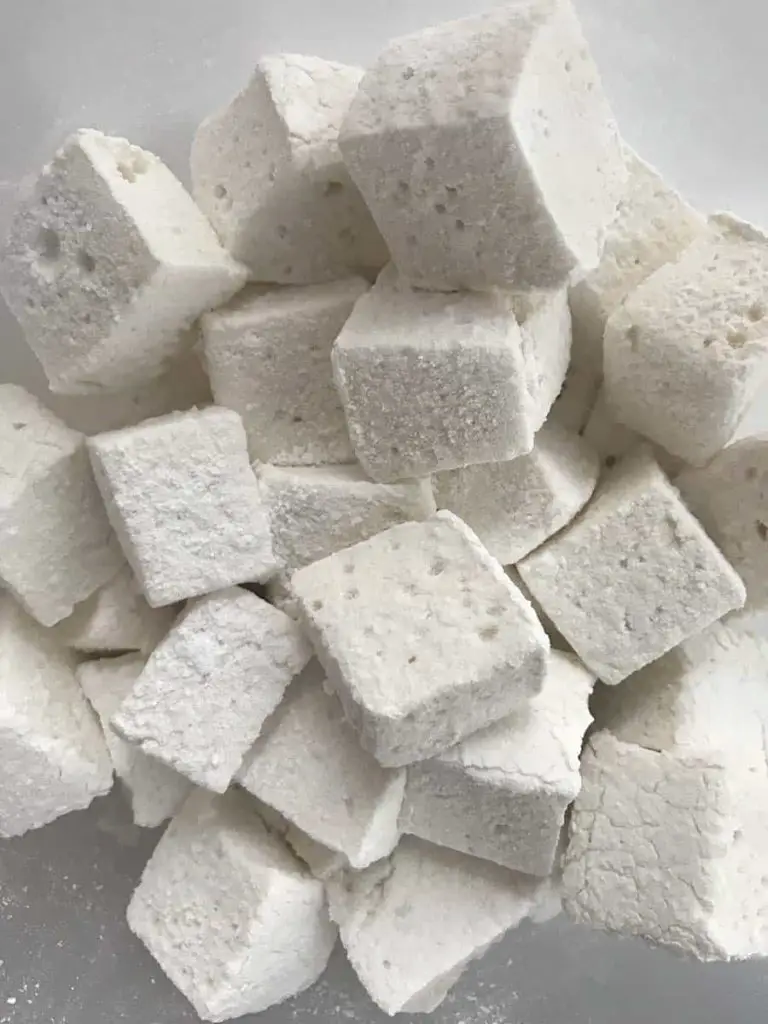 Vegans and vegetarians steer clear from marshmallows because of the fact that the seemingly fluffy little pillows contain gelatin, which is an animal protein.
To be more specific, gelatin is derived from animals' ligaments, tendons, skins, and bones. From pigs and cows, to be exact. These parts are boiled to extract the collagen.
To be honest, if I'm vegan or vegetarian, it might sound a little too gross to think about. But I'm not, so eating a small bag of mini marshmallows is not a problem at all.
However, as a good host should be, I'm trying to be sensitive enough to cater to the preferences of my guests. So if I'm going to serve something, I should make sure they will enjoy what they eat or that they can eat what I serve. I'm sure you know what picture I'm trying to paint here.
Now, I know that there are vegan marshmallows in the stores. Trader Joe's and Dandies are the brands I usually hear about. But for someone like me who doesn't live in a large city, these are not readily available in my area.
So the next best thing for me is to make my own gelatin-free marshmallows, which I'm very happy to do.
The question is, what can I use instead of gelatin? Read on.
Gelatin Replacement in Vegan Marshmallows
There's actually another ingredient we can use that works just the same as gelatin – and it's plant-based!
Have you ever heard of agar powder? Agar is something that comes from seaweed. See? It's not animal-based, and I know my vegan friends will be so happy.
Agar, just like gelatin, has no flavor, no smell, and it doesn't have a color. They are so similar, you'd think they're the same. Except that they're not. Based on the source, that is.
Another slight difference that they have is that agar is more firm than gelatin when it sets. For me, it's beneficial in a way that it can hold its shape more when I need it to.
There's so much we can make using agar, but today, I'll show you my how to make marshmallows recipe without gelatin.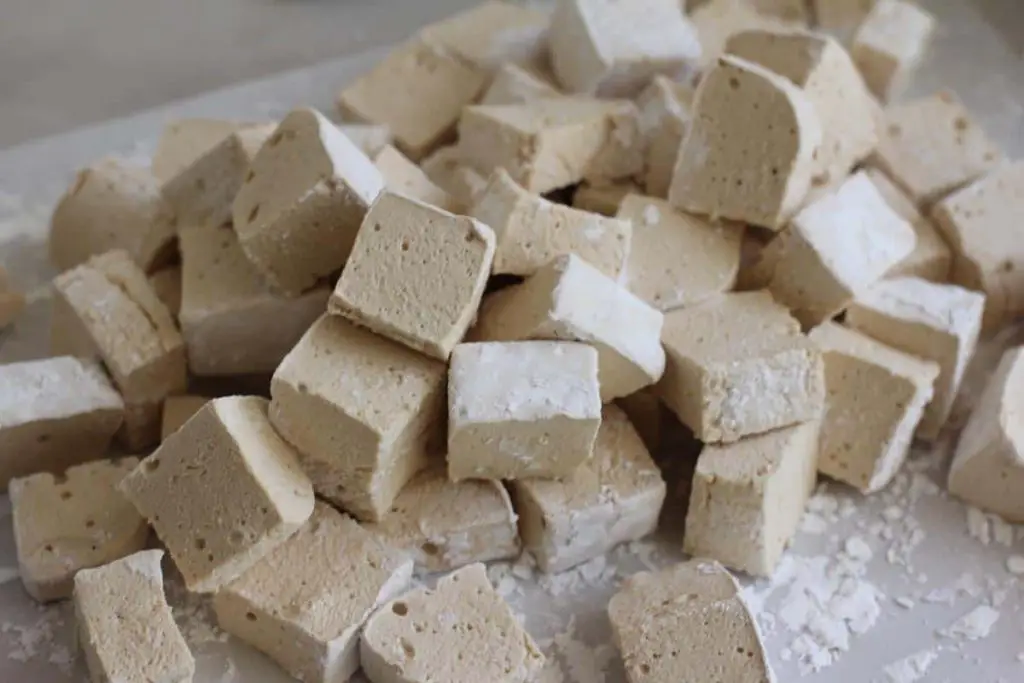 Print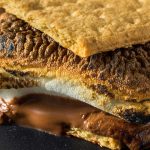 Marshmallow Recipe Without Gelatin
---
Author:

Total Time:

35 minutes

Yield:

16

pieces

1

x
Description
This is a homemade marshmallow recipe without gelatin that is easy to make and tastes just like the regular ones. You won't even notice the difference! So if you want to a Vegan marshmallow recipe, then this is for you.
---
1 ½ cup

powdered sugar

½ cup

cornstarch

¾ cup

of cold water

1 ½ cup

granulated sugar

1 ½ cup

corn syrup

3 tablespoons

agar powder

⅛ teaspoon

salt
Other kitchen tools you'll need:
Baking pan greased with vegetable shortening
Heavy-bottomed saucepan
Pastry brush
Electric mixer
Small towel
Sharp knife
---
Instructions
Prepare the baking pan greased with vegetable shortening.
Combine powdered sugar and cornstarch in a mixing bowl. Dust the baking pan with a spoonful or two of the mixture to coat the sides. Set aside.
In a heavy saucepan, pour in the water, granulated sugar, corn syrup, agar powder, and salt. Give two quick stirs. No need to stir more to combine well.
Over medium-high heat, bring the mixture to a boil until the temperature reaches 220 degrees Fahrenheit. Brush the sides of the pan with a wet pastry brush to prevent crystallization.   Keep an eye on the candy thermometer and remove the pan from the heat immediately once the mixture reaches the desired temperature. From this point, you will need to move as fast as you can to ensure the mixture has not cooled down yet before pouring it on the mixing bowl for the next step.
Turn the mixer on low and cover with a small towel to prevent the hot sugar mixture from splattering all over the place.
Slowly pour the hot mixture on the mixing bowl while the mixer is on low speed. Once you have adjusted to the speed, increase it gradually until you reach high speed. Remember to keep it covered to prevent you from the risk of burns.
Continue to whip for 10 minutes. By then, the mixture should be shiny, thick, and fluffy.
Transfer the marshmallow mixture to the greased baking pan and let it rest uncovered for at 18-24 hours.
After 24 hours, the top should be completely dry. Cut the marshmallow into desired shapes. For this, you need a really sharp knife that's dipped in the powdered sugar and cornstarch mixture. This will help you cut the mallows cleanly. Rinse the knife every now and then, and re-dip in the powder mix.
Toss the marshmallows in the remaining powdered sugar and cornstarch mixture, ensuring that all sides are coated.
Store in an airtight container for later consumption.
Now you have your marshmallows ready to be transformed to smores. Be sure to prepare original Graham crackers and some dark vegan chocolate bars for your vegan friends.
Prep Time:

5 minutes

Cook Time:

30 minutes

Category:

Candy