I promised the kids we'll do something fun today. I didn't tell them ahead of time what it was, I just told them they can only join in the fun if they promise to trade their gadget time for it.
They were hesitant at first, but when they found out we are making gumballs, they were more excited than I expected! So with just a few ingredients, we're all set to get our hands dirty.
With most ingredients already available in our kitchen, the only thing I needed to purchase online was a pack of gum pellets. You can usually find these at your local grocery store.
There are some leftover flavoring and coloring in the pantry so we're just going to use those. The kids get to choose what flavors and colors they want so it's like a field day for them!
We made chewing gum before, but all we used was peppermint oil and honey for flavoring so it wasn't as fun as these gumballs will be. But if you prefer making gum using only natural ingredients, feel free to visit that post. It's quick and easy and I offered some tips for sugar-free gum as well.
So going back to our gumball making activity, it's a sure way of keeping the kids busy with something they will enjoy after. This recipe doesn't involve making the hard shell as you would find in the gumballs from avending machine.
Teaching the kids how to make gumballs has its' perks because first and foremost, it's inexpensive. Second, it keeps the kids away from their mobile devices or from watching too much TV. Lastly, we get to spend time doing something together as a family.
So here goes.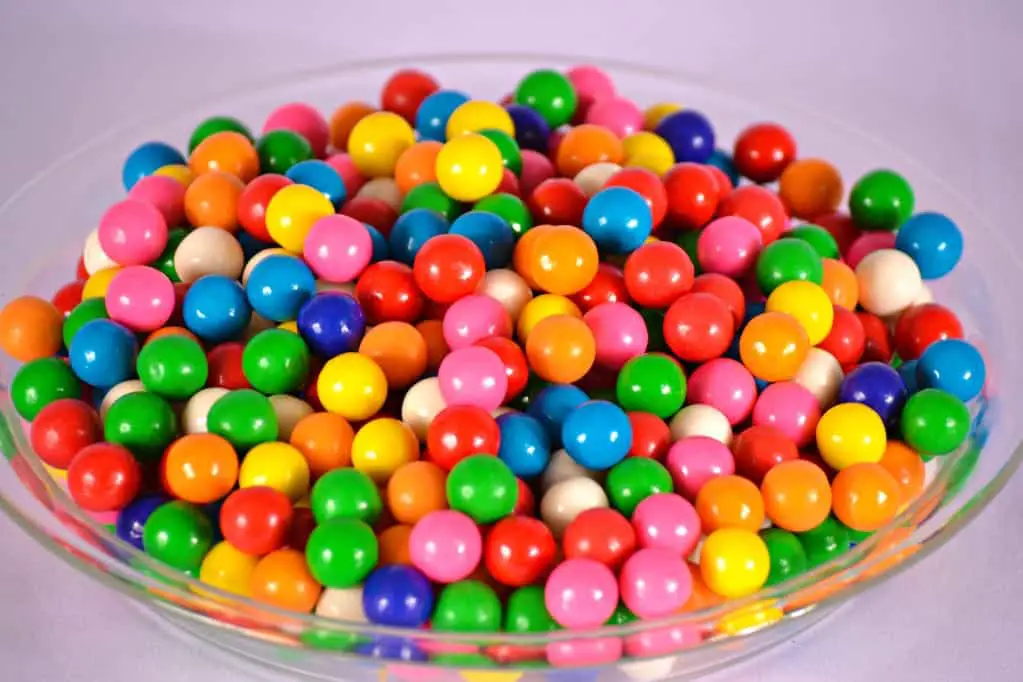 Chewing Gum vs Bubble Gum
My son asked me this. How is chewing gum different from bubble gum? 
The answer is that bubble gum is formulated to allow you to blow the gum into bubbles while chewing gum is made primarily to freshen your breath. The gum base used for both is different. Bubble gum uses a mixture of polymers and starch while chewing gum requires natural gum or chicle.
In that sense, bubble gum is thicker than chewing gum and can hold a bubble longer. While they are both sweetened, it's more common to incorporate flavors and colors into bubble gums while chewing gum is primarily minty.
Color and Flavor Variations
Here are some suggested combinations in case you want to explore more flavors. These are the same ones I used for my hard rock candies and other recipes on this blog:
Blue for raspberry or blueberry
Light blue or light pink for gummy or tutti frutti flavors
Pink for strawberry
Yellow for banana or lemon
Green for peppermint, green apple, or kiwi
Orange for cinnamon or buttered rum or maple syrup
Red for cherry
Purple for grape
Print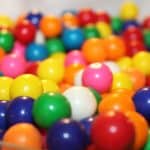 How To Make Gumballs
---
Total Time:

40 minutes max

Yield:

Approximately

40

gums

1

x
Description
When I was a kid I always wanted to have a miniature gumball machine in my room; that never happened. It wasn't until I was adult that I learned how to make gumballs and how easy it is. 
---
⅓ cup

gum pellets

¾ cup

confectioners sugar +

2 tablespoons

for sprinkling

½ tablespoons

light corn syrup

¼ teaspoon

citric acid
Food coloring of your choice
Flavoring of your choice
Other kitchen tools you will need:
Microwavable bowl

Popsicle sticks

Wax paper for lining

Wax paper cut into 3×3 inch squares
---
Instructions
Pour the confectioners sugar onto the wax paper and make a well in the center using a popsicle stick.

Put the gum pellets, corn syrup, and citric acid in a microwavable bowl and pop it in the microwave for 45 seconds.

Stir the mixture and heat it again for 10 seconds. Repeat until the pellets have completely melted.

NOTE: Don't let the kids do this on their own as the mixture will be extremely hot.

Pour the mixture into the center well you made in the confectioner's sugar and stir using a popsicle stick.

When the mixture is cool enough, start mixing using your hands until well combined.

Add the flavoring and coloring and stir.

Knead the gum until it becomes smooth and easy to roll.

Roll the gum into a thin snake.

Cut into bite-size pieces.

Roll each piece into a ball and dust with confectioners sugar.

Wrap in squared wax paper.
Notes
If you want more than one flavor and color, divide the gum at the time you Step 5 and make the flavor variations in Step 6.
Prep Time:

5 minutes

Cook Time:

20 to 35 minutes