Making Dark Chocolate at Home
If you've been reading my previous posts, the most recent ones are really sweet and mostly for the kids.
From a series of edible kitchen science activities including hard rock candies and geodes to gummy bears and gum, I think it's time for more me-time in the kitchen.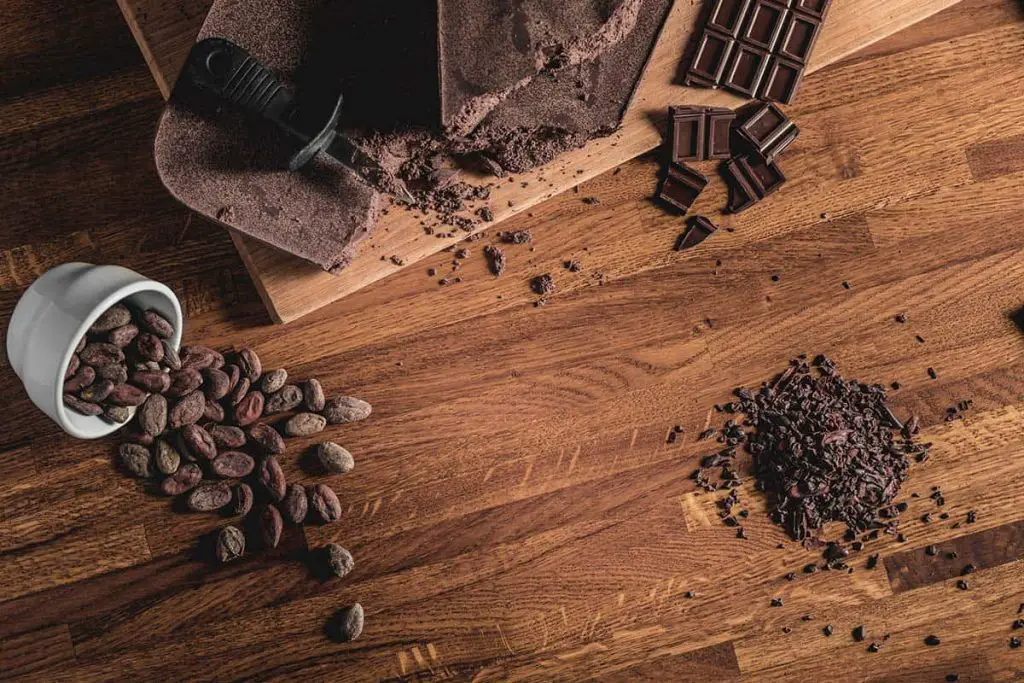 I've been taking in all the guilty pleasures of eating sweet treats with the kids, and now I'm craving for something dark. I've posted how to sweeten dark chocolate before, now it's time to show you something else: how to make dark chocolate.
In my household, no one else enjoys dark chocolates. And because the majority wins most of the time, then they get their milk chocolates and I give in to the pleasure with them.
Well, they have their stash in the pantry right now, so nobody should get in my way today. Dark chocolates it is!
This recipe is simple and can be customized according to your preference. And because of its many health benefits, I can never say no to it.
So read on and stay with me as we discover more reasons to indulge in dark chocolates.
Health Benefits of Dark Chocolate
1. Gut microbes turn chocolate into something anti-inflammatory.
New research tells us that the good microbes found in the stomach eat the chocolate and turns it into anti-inflammatory compounds.
Studies found that dark chocolates reduce stress-associated hormones and normalize systemic stress metabolic signatures.
It's basically a happy pill, boosting the production of endorphins in the body.
3. It reduces the chances of developing cancer.

Flavonoids found in cocoa beans contain antioxidants that help prevent or slow down cell damages caused by free radicals, potentially prevents the development of cancer cells.

Just take note, however, that we are not talking about all chocolates here. This pertains to dark chocolates, in particular. And by dark chocolates, it is referring to those with 60% cocoa and little to no added sugar.
4. It is considered as food for the brain.

Dark chocolates are proven to improve memory, protects the brain, and improves blood flow to the brain.
5. It reduces platelet clumping.
There are chemicals in cocoa beans that have an aspirin-like effect and reduces blood clots that may block blood vessels and lead to a heart attack.
Chocolatier scientists say dark chocolates contain antioxidants that promote skin tightening and healthier younger-looking skin.
See? There's so much more to love about dark chocolates. Although, I can't stress enough that these benefits refer to dark chocolates – with 60% cocoa and above, and little to no sugar.
Those that have additives such as sweeteners, milk, marshmallows, and other mix-ins are definitely not part of the ones that have health benefits.
And because I love dark chocolates that much, then I welcome all of these benefits with all my heart. HA!
How to Make Dark Chocolate
Well, making dark chocolates are not hard to make. You only need five ingredients that are easy to find, and the process is so simple. The only thing that is critical here is the temperature, which is key to getting the perfect chocolatey texture.
Adding the cocoa while the cocoa butter is too hot, your chocolate will be less glossy and might have a gritty texture. And for this, the candy thermometer is my best friend. This is the only candy thermometer I use and recommend.
I made sure that the ingredients I'm using in this recipe contain no added sugar so I can reap all the helpful benefits above. But since this is homemade, you can do as you please.
If you want it sweeter, it's easy to add some sugar without messing up the recipe. You may add in some flavoring and mix-ins as well.
I sometimes use this recipe and throw in some orange zest, coffee bits, bacon bits, and even chili flakes. There's so much you can do with this recipe, really. 
I'll teach you with the basics, the rest is up to you to explore.
Additional Tips
Make sure to follow the correct temperature to get the perfect texture.
If you prefer to incorporate additional flavors to this recipe, do it in step 3.
For creamier chocolates, use cocoa butter instead of coconut oil.
Vanilla extract may be replaced with almond extract.
Sometimes when I want the peppermint chocolate variety, I replace vanilla extract with peppermint extract.
For a sugar-free variety, replace honey with liquid stevia.
Print
Dark Chocolate Recipe
---
Total Time:

10 minutes

Yield:

10

–

15

servings

1

x
Description
This easy, five-ingredient dark chocolate recipe is something you can make any time you want. I used to think that chocolate was difficult to make. Then when I tried to make it I discovered how easy it is.
---
½ cup

of coconut oil

1 cup

unprocessed cocoa powder

1 tablespoon

raw honey

1 tablespoon

vanilla extract
A pinch of kosher salt
Kitchen tools you will need:
Wire whisk
Rubber spatula
Silicon candy moles
---
Instructions
In a double boiler, melt the coconut oil over medium heat. Make sure that temperature does not exceed 115 degrees Fahrenheit. If you don't have a double boiler, you may improvise your own bain-marie. Get a saucepan and a glass or metal bowl that fits snugly in the saucepan. The important thing here is that the water in the bottom pan doesn't touch the bottom of the top pan or bowl. This is technically how you melt something over indirect heat using a double boiler.
Once the coconut oil has completely melted, remove the pan from the heat.
Let the coconut oil cool to 95 degrees Fahrenheit and add in the cocoa powder, raw honey, vanilla, and kosher salt.
Whisk the chocolate mixture until well blended. Make sure that there are no more lumps of cocoa powder in the mixture. After using the whisk, switch to a rubber spatula so you can clean the sides of the bowl.
Let the temperature drop to 90 degrees Fahrenheit before pouring it into the silicon molds.
Refrigerate for at least 30 minutes.
Pop the hardened chocolates out of the mold and store in an airtight container.
Prep Time:

5 minutes

Cook Time:

5 minutes

Category:

Candy