The holidays are over, but my nostalgia isn't. Not when there's pecan brittle in my pantry. 
If you've been here before and chanced upon my peanut brittle recipes, I have two. The first one is my mom's recipe that I revamped into a no-mess version using the microwave. The only problem I have with it is that it uses corn syrup.
A few months later, I posted the stovetop version minus the corn syrup as many regulars of this blog would've already expected. 
Peanut brittle was a staple at home on Christmas when I was a kid. Now that I have my own kids, we never miss out on making this treat year after year.
We have been making a huge batch to give away to family and friends on Christmas morning ever since I can remember. When my grandma got too old to cook, we started taking over the tradition. But since I was feeling a little extra last Christmas, I used pecans instead.
You get the same sweet and buttery treat, but with a whole new flavor. It's an upgraded version of the peanut brittle, as I'd like to put it. 
As expected, I didn't use corn syrup in this recipe. If you're a frequent user of corn syrup, you might want to read more about why it's something you should avoid. 
Before I show you how to make pecan brittle, let's talk about a few more things.
Corn Syrup Alternatives
If, like me, you're trying to avoid using corn syrup, know that you shouldn't avoid recipes using this ingredient. There are many alternatives you can use especially when making candy.
The primary purpose of corn syrup in candies is to keep the sugar syrup from forming crystals. It acts as an interfering agent and is commonly used in caramel and hard candies.
What you should know is that while it's a popular ingredient, it's not the only interfering agent you can use. Its' alternatives are fortunately non-artificial and don't cause harmful side effects. 
The best corn syrup alternatives are cream of tartar, baking soda, vinegar and lemon juice.
They're far from the things we would've normally thought would be good corn syrup substitutes, but they do work. And if you have non-artificial options, it would be best to take them.
For this recipe I use baking soda. When baking soda is added to melted sugar, a chemical reaction creates a lot of bubbles that give the brittle its' delicate texture. So cross that corn syrup off of your grocery list and use baking soda instead.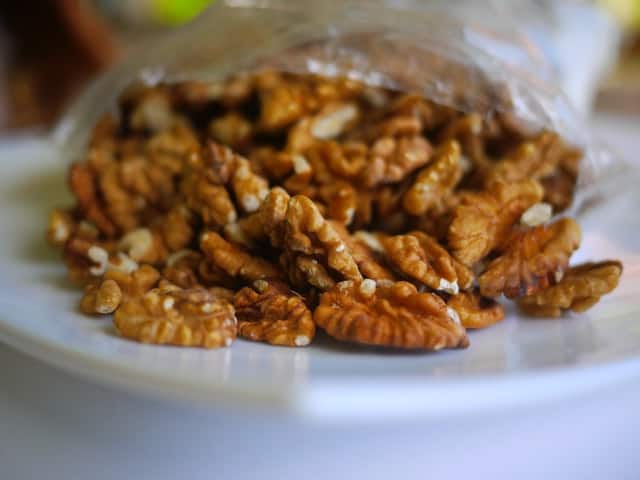 Do You Need a Candy Thermometer to Make Brittle?
The answer is yes. 
Well, I know that in my peanut brittle recipe, I didn't use a candy thermometer. That recipe depended on the color and you have to wait for the melted sugar to turn into dark amber before you take the pan off and add the other ingredients.
While it's something I've mastered over the years, I've received some personal messages asking for tips to ensure they don't burn the sugar. Because the thing with melting sugar is that while it's easy to do, it's also easy to mess it up. 
It only takes a few seconds to burn the sugar. Light amber can instantly turn to dark amber and burn easily if not immediately removed from the heat. To make the recipe foolproof, use a thermometer.
With your candy thermometer in hand, you'll be ready to make this nostalgic treat without fail.
Print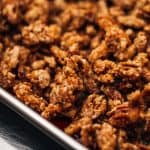 How To Make Pecan Brittle
---
Total Time:

55 mins max

Yield:

Approximately

12

servings

1

x
Description
Give brittle a gourmet twist by using toasted pecans. It's as easy as making peanut brittle, but the pecans give you a richer and deeper flavor with the same nostalgic feels. Learn how to make pecan brittle in this recipe.
---
1 cup

brown sugar, packed

¾ cup

maple syrup

4 tablespoons

unsalted butter

½ teaspoon

vanilla

½ teaspoon

baking soda

1 cup

toasted pecans, chopped
Other Kitchen tools you will need:
Candy thermometer

Heavy-bottomed saucepan

Greased baking sheet
---
Instructions
Prepare everything you need and ensure that the ingredients are within easy reach by the time you start cooking.

In a heavy-bottomed saucepan, bring sugar and maple syrup to a boil over medium heat. Stir occasionally to ensure there are no sugar lumps are left.

Let it cook until it reaches 300 °F (or 149 C). Don't keep your eyes off the mixture as it tends to burn fast.

Remove the pan immediately from the heat once it reaches 300 °F (or 149 C).

Add the butter, vanilla, and baking soda. Stir continuously to incorporate all the ingredients together.

Stir in the pecans quickly and pour the mixture onto the greased baking sheet. Swirl the baking sheet around and let the mixture spread by itself.

Let the pecan brittle cool for 30 minutes.

Once the brittle is ready, crack the brittle to pieces. Store in an airtight container.

 
Notes
There is a resting time of 30 minutes after the cooking.
Prep Time:

5 mins

Cook Time:

20 mins max