Over the holidays, I may have had too much butter. With all the treats from Halloween to Thanksgiving to Christmas, New Year and all the birthday celebrations in between. I can't count the times I've had butter in delicious confections.
Yet the box of Rice Krispies is waving at me from the kitchen counter and I can't help but think of making rice krispie treats! 
My old recipe is one that uses marshmallow fluff instead of melting marshmallows because I wanted a foolproof recipe that anyone can easily make. 
But I want to do something different now – melt my own mallows and make it without butter.
So in this post, I'm going to show you how to make rice krispie treats without butter. Let's have a healthier take on the delicious treat using only three simple ingredients.
But before that, there are a few other things to consider.
What Makes Rice Krispie Treats Hard?
For the longest time, making rice krispie treats was always a hit or miss for me. Sometimes I nail it, other times they end up being almost as hard as a rock.
It made me really wonder because my proportions are the same, but the results are different. So what could I have done wrong?
At one point, as you may have seen in my previous rice krispie treats recipe, I tried marshmallow fluff. So I thought that what went wrong in my failed batches were the marshmallows. But while that could be the case, there are other things that can go wrong that you have to be mindful of.
For instance, you may have too much cereal and not enough marshmallow and butter or its' equivalent. Or, your marshmallows may be stale, which could be the reason my issue was resolved using marshmallow fluff. And lastly, your container may not be airtight.
Consider these things when making your own rice krispie treats at home to avoid getting something you can hardly bite.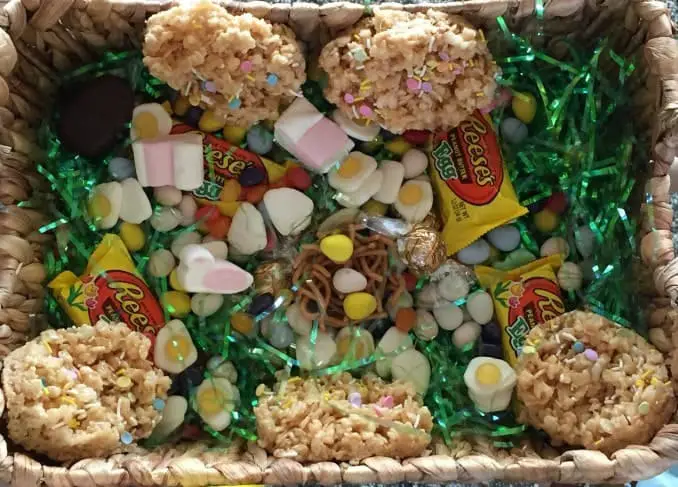 Why Make Rice Krispies Treat Without Butter?
As delicious as rice krispie treats are, they are packed with carbs and fats that many of us want to avoid. Plus, it's not a dairy-free treat, making a lot of people avoid it in general.
Making them without butter makes themhealthier and friendly to people who are looking for dairy-free options.
What Can I Use Instead of Butter in Rice Krispie Treats?
If you want to forego butter in your rice krispie treats for whatever reason, you can use any of the following alternatives:
Coconut oil – dairy-free and provides healthy fats
Peanut butter – can be used with maple syrup to replace both butter and marshmallows for a dairy-free, vegan version with added protein.  
In this post, I'll show you two ways to make rice krispie treats without butter and each recipe only requires three ingredients!
Print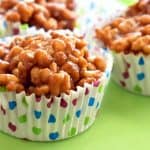 How to Make Rice Krispie Treats Without Butter
---
Total Time:

2 hours 10 minutes

Yield:

12

squares

1

x
Description
A quick and easy, vegan, dairy-free and butterless version of your favorite rice Krispie treats. I promise you won't even miss the butter!
---
¾ cup

of coconut oil

2

10-oz. bag marshmallows

9 cups

Rice Krispies Cereal
Other Kitchen tools you will need:
Medium saucepan

Large mixing bowl

Rubber spatula

8

x 8-inch baking pan

Non-stick baking spray
---
Instructions
Grease the mixing bowl, rubber spatula, and a square pan using the non-stick spray.

Pour the Rice Krispies Cereal onto the mixing bowl and set it aside.

Melt the coconut oil and marshmallows in the saucepan over low heat. Stir constantly.

Once the mixture becomes smooth, pour it over the cereal and toss until the cereal is coated.

Pour the cereal mixture onto the baking pan and spread into an even layer.

Let it rest for 2 hours and cut into squares.

Store in an airtight container and consume within 5 days.
Notes
There is a resting time of 2 hours after the cooking.
Prep Time:

6 minutes

Cook Time:

4 minutes