How To Make Wafer Cookies At Home
I made sugar wafers earlier this week. Turns out, I had some creme filling left because the kids used another filling for some of the wafer sheets.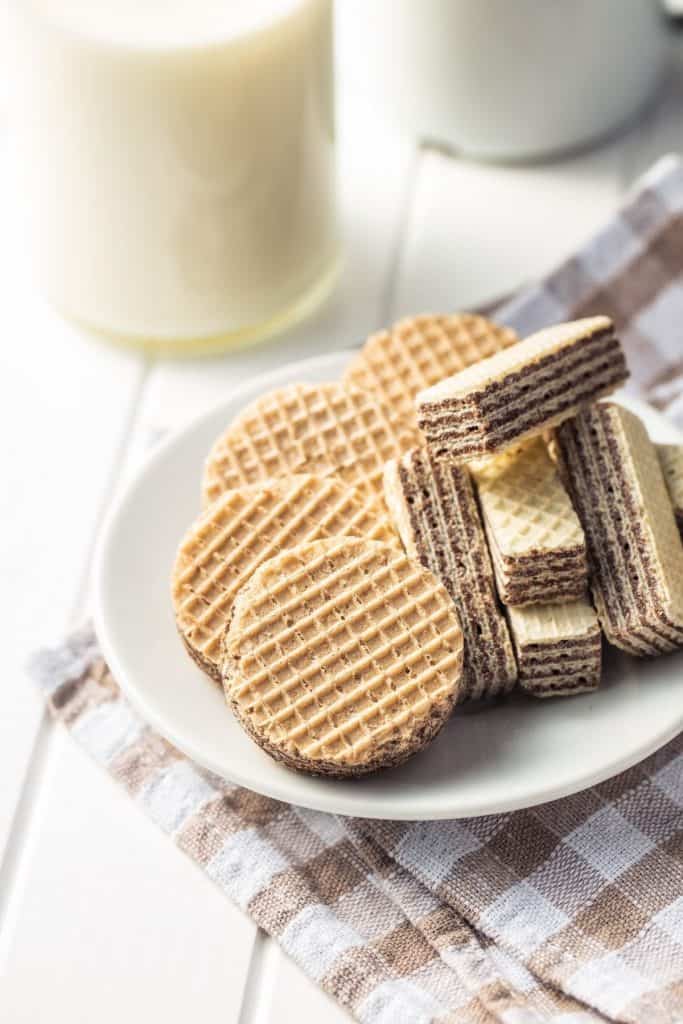 My youngest was munching on her cookies and I suddenly got the idea of making wafer cookies this time to make use of the leftover creme filling.
Well, it's not enough for a big batch, but I'll show you other easy fillings you can easily use on wafer cookies. You can use them on sugar wafers, too.
But before we get to the details of the filling let me show you first how to make wafer cookies.
The ingredients are almost the same as that of sugar wafer. To make wafer cookies, you only need butter, sugar, egg, vanilla extract, flour, and some salt.
Again, very basic ingredients that you can easily turn to something that brings back childhood memories. There are many fillings you can pair wafer cookies with. Or you can have it plain for something you can have any time with coffee, tea, or hot chocolate.
And if you feel like it, a scoop of ice cream will do, too.
Today, we'll do one batch and make a variety of fillings we can use with it.
What Makes Wafer Cookies Special
Wafer cookies are so sophisticated in a way that it was first recorded in Paris back in 14th century. Some Renaissance cookbooks even have wafer cookie recipes on them.
Back in the day, wafer irons are designed historically with family crests. Thus, their wafer cookies have designs that could be unique per family. They can be flat or folded into cones.
It's been said that throughout the late medieval period and into the early Renaissance, wafer cookies were part of the court ceremony at the end of state meals. Later on, wafers became luxurious treats for the affluent people.
Wafers have come a long way since then and are enjoyed all over the world. Designs and presentations have also varied, and they are prepared for different purposes.
There are some countries that serve wafer cookies for special events and occasions. But in most countries, they are eaten throughout the year.
Of course, I'll go with the latter! I won't wait until Thanksgiving or Christmas to prepare this delectable cookie.
ALTERNATIVES
Use of wafer iron
If you have a wafer iron, prepare the batter by following steps 2 to 4 above. 
Preheat the wafer iron and grease with cooking spray. Drop a small scoop into the middle of the wafer iron. Cook for 30 seconds to 1 minute or until the edges turn golden brown.
Cool the cookies on the cooling rack before serving.
Making wafer cookie sandwiches
As I said, I have some leftover creme filling from my last recipe. As for me, I will just reuse those. But if you're making some from scratch, all you need is ¼ cup soft butter, ¾ cup icing sugar, 1 egg yolk, 1 teaspoon vanilla extract, and food coloring of your choice.
Mix all of those in a mixing bowl until well combined.
Fill a corner of a pastry bag with the filling. Cut the tip of the corner where the creme filling is. Squeeze a small amount of the filling on top of a cookie and top it with another cookie to make a cookie sandwich.
If you don't have a pastry bag, use a zip-top bag and follow the above process. If both pastry and zip-top bags are unavailable, gently spoon the filling onto the bottom half of the cookie and spread evenly.
I sometimes roll the sides of the cookies onto a small bowl with sprinkles for the kids. But of course, this is optional.
Other filling or variations
Here are some other fillings that we've tried so far.
Nutella
Peanut butter
Almond butter
Cookie butter
Melted chocolate
Any type of frosting
Quick tip: avoid jams and jellies because they technically make the wafer cookies soggy due to their watery nature.
If you want to use jams and jellies, make it as toppings instead of fillings. Ice cream would make a good topping, too.
While you can dip the cookies in honey or caramel, don't use them as filling. You will make a mess as both will just drip over the sides of the cookies. If you want, serve the cookies with honey or caramel separately.
Serving suggestions
There are so many ways you can serve wafer cookies. You may serve them as is. They are best paired with espresso, cappuccino, tea, or even hot chocolate for the kids.
I also like to dust it with icing sugar. Sometimes I used colored sugar for fun. If you want, dusting it with cocoa powder will also do.
You may use it as a garnish for other sweet treats such as ice cream, pudding, or yogurt.
Print
Wafer Cookie Recipe
---
Total Time:

25 minutes

Yield:

36

pieces

1

x
Description
Wafer cookies always make me think "tea party". What a great conversation starter it is when you can say you made the wafer cookies for the tea party yourself. Plus the kids will love dipping them in hot chocolate.
---
1

stick softened butter

½ cup

granulated sugar

1

egg

1 teaspoon

vanilla extract

¾ cup

all-purpose flour

⅛ teaspoon

salt
Kitchen tools you will need:
Electric mixer
Cookie scoop
---
Instructions
Line the baking sheet with parchment paper and pop into the fridge to chill.
In a mixer, cream the butter and sugar over medium speed.
In a separate bowl, sift the flour.
Once the mixture is well blended, add the flour and salt. Mix again until completely combined.
Using a cookie scoop, drop small portions onto the chilled baking sheet. Make sure they are at least three inches apart. Make sure that the baking sheets are chilled before lining the dough. This is critical in producing cookies that are evenly baked.
Preheat the oven to 350 degrees Fahrenheit.
Once the oven is hot enough, bake the cookies for 7 to 8 minutes. This will be enough to make the edges golden brown.
Let the wafer cookies rest for at least 10 minutes in the baking sheet.
After cooling the cookies for a bit, remove them from the baking sheet and let them cool completely in the cooling rack.
Serve and enjoy!
Notes
Alternatives: Please see above for further options.
Prep Time:

10 minutes

Cook Time:

15 minutes

Category:

Candy