Anything you can make at home is always the best, in my opinion. It gives you the chance to make it for family and friends on any occasion, anytime you want. Be it food or beverages, my stance is always the same – it's best when it's homemade.
Even my coffee isn't exempt. No, I don't make the coffee beans or the cream at home, but I do make some sweet syrups in my kitchen.
Do you remember I mentioned a while back how I go to Starbucks with the kids on lazy Saturdays? The moment it became more frequent, the homemaker in me calculates in my head how much I can save if I just make them their Skittles frappuccino at home.
The secret drink is not a secret to them anymore and they'd order it at Starbucks every chance they can get. Being able to hack that recipe saves a lot of money, I just have to make sure I have enough berry and vanilla syrup in the pantry.
But you see, while I've gotten the kid's drinks out of the way, I still find myself sneaking a cup of caramel macchiato once in a while. And when I say once in a while, that also means any chance I can get. It doesn't matter if it's Starbucks or any other coffee shop as long as I have a dose of caramel in my coffee.
Over the years of making caramel, I've made various versions with different textures using different ingredients and techniques. For caramel that's not too thick and perfect for drizzling over pastries and beverages, I make one without cream or butter. 
It's a little runny and doesn't turn into a chewy candy when stored. My problem with it is that it's not perfect for my caramel macchiato recipe because that caramel recipe contains milk.
A good caramel macchiato needs some cold milk of your choice. Having milk in my caramel kind of alters how I want my macchiato to be. While it's great for my regular cup of joe, I need a different one for my good ol' comforting cup of caramel macchiato.
Because of that, I had to explore how to make caramel for coffee. If this post might have you thinking about another Starbucks drink that I've managed to make successfully at home, Caramel Brûlée Latte. The official Sbux one is too sweet for me, but when I make it home I can make just how I like it.
Yup! With all the other caramel recipes I have on this page, it's ironic how I don't have a post dedicated to the caramel in my coffee yet. Oh well, it's better late than never, so they say!
If you're looking for caramel syrup for your coffee and other beverages, you'll be glad you dropped by today. This recipe will surely make coffee and caramel lovers' hearts skip a beat. Pun intended. ?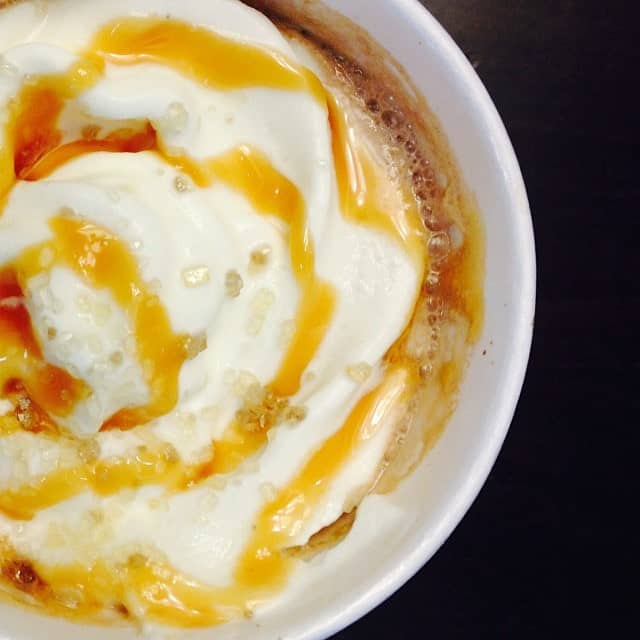 Caramel Syrup vs. Caramel Sauce
You might be thinking, you have caramel sauce at home. Can't I just use it for my coffee? The answer is it depends. 
If your caramel sauce doesn't contain butter, you can add some to your coffee. Well, you can still add caramel sauce with butter if you want to but that's entirely up to you. It's a matter of preference, but you have to know that the result isn't going to be the same.
If you want extra milk or cream in your coffee, you can use regular caramel sauce as well. However, it'll change the consistency of your coffee a bit because of its' thick consistency compared to caramel syrup.
On top of that, having butter, milk, or cream on your caramel sauce increases the calorie count. Caramel syrup has fewer ingredients, but provides the same rich flavor minus the complexity.
Also, homemade caramel syrup doesn't have preservatives like the store-bought ones. And since it doesn't have milk or cream, it stays fresh for a long period of time in your fridge.
Why Make Caramel Syrup for Coffee
As I mentioned, while regular caramel sauce can be used for coffee, the milk, cream or butter in it makes it too thick for many people. Some people prefer their coffee without milk or cream, so this is a great option for them. Also, if you are into homemade coffee, gourmet or not, your sweetening options can be quite limited. 
You might think sugar is the best answer. Sure, sugar sweetens your coffee. But have you noticed that pile of sugar goop at the bottom of the cup? Or have you ever found store-bought coffee to be too sweet for your liking?
If you don't like those options, then making your own caramel syrup at home is the way to go. You get to have that rich flavor you crave without making your coffee too sweet and thick.
The thing with coffee caramel is that it's not as tricky as other caramels. You don't have to achieve a particular color and you don't even need to look out for its' temperature! It's fairly easy to do with very minimal ingredients.
Print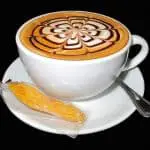 How to Make Caramel for Coffee
---
Total Time:

18 minutes max

Yield:

1 cup

1

x
Description
This homemade caramel for coffee recipe will have you sweetening your coffee in no time. You and your guests will enjoy the rich caramel flavor this recipe will add to your lattes. You won't have to go to Starbucks for your Caramel Macchiato anymore, you can make it (or something very similar to it) at home.
---
1 cup

granulated sugar

¾ cups

of water, divided

1 teaspoon

vanilla extract
A pinch of salt
---
Instructions
Combine the sugar and ¼ cup of water in a heavy-bottomed pan.

Stir the mixture over low heat until the sugar is fully dissolved. NOTE: Ensure not to let the mixture boil until the sugar is dissolved completely in the water.

After the sugar has been dissolved, increase the heat to medium-high and cover the pot. Leave it to sit for about 3 minutes.

Remove the cover and stir continuously until the mixture turns light brown.

Remove the caramel from the heat and add the remaining water. Stir until well combined.

Add in the vanilla and salt as well. Stir again until well combined.

Let cool before using and store in an airtight container.
Prep Time:

3 minutes

Cook Time:

15 minutes max