Are you health conscious? Or maybe lactose-intolerant? Know someone who is? If so, then this diary-free potato soup is perfect for you.
I love to make dairy-free soup recipes that are tasty and simple. I find that these soups are perfect for the fall and winter seasons. My favorite ones are dairy-free potato soup, vegan butternut squash soup, and classic vegan mushroom soup recipes.
This dairy free potato soup recipe is so creamy and easy to make! This soup is made with potatoes, coconut milk, onion, garlic powder and chicken stock. It has a rich flavor that's sure to delight.
Print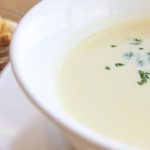 Get cozy with this rich and creamy Dairy-Free Potato Soup recipe
---
Description
This dairy-free potato soup is a perfect comfort food for those who are lactose intolerant or following a dairy-free diet.
---
2.5 lbs yellow potatoes, peeled and diced (1 inch cubes)

32 oz chicken broth or stock

1 small yellow onion, diced

8 oz canned coconut milk, unsweetened

1/3 tsp garlic powder

Salt and pepper to taste

Nutritional yeast (optional alternative to cheese)
---
Instructions
In a soup pot, put the chick broth, potatoes and onion.

Bring to a boil and cook until potatoes are soft (approximately 5 – 8 minutes). Try to overcook the potatoes because they will begin to absorb the chicken stock.

Now, take 1 cup of diced potatoes out of the pot and set them aside for later.

Add 1 cup of coconut milk to the remaining potatoes, onion and chicken broth.

Put everything from the soup pot (coconut milk, potatoes, onion and chick broth) into a blender and blend until smooth. Put the blended soup back into the soup pot. Or if you have an immersion blend, you can do it right in the pot.

Add the cup of potatoes that you set aside earlier back into the soup pot.

Season to taste with salt, pepper, garlic powder.

Stir the soup and ladle into bowls.

You can top it with nutritional yeast, which is a great alternative to cheese
Notes
If the potatoes are over-cooked and they soak up too much chicken broth, all is not lost! When blending the soup, add in more chicken broth until the soup reaches the consistency you want.
Keywords: potatoe soup,lactose-free,diary-free