Up to this day, it still surprises me that many people don't like eating fresh tomatoes, but are fine with pizza and ketchup, my husband and kids included. While many of us attribute this to preference, it's mainly taste receptors and genetics that determine whether we become tomato lovers or haters.
Because not everyone in my family shares my enthusiasm for fresh tomatoes, I decided to make tomato soup using Campbell's tomato soup instead. I'm using almond milk as a counterbalance to the tomato's tartness. Of course, the fact that I can make this soup in less than 15 minutes is quite appealing for a busy mom like me.
Tips to Dressing Up Your Tomato Soup
Sometimes, a bowl of tomato soup is enough to ease your hunger. Most of the time, however, it feels like there's something missing. Check out the following suggestions for enhancing your tomato soup.
Add a can of roasted tomatoes, either diced or turned into a puree. This will increase the soup's tomato flavor, so balance it with a bit of cream and fresh basil leaves.
Swirl some red wine vinegar into the soup or you can add a teaspoon or two of sherry, whichever you prefer.
Add a drizzle of pesto (either homemade or store-bought) and top with toasted nuts and croutons. It's up to you what toasted nuts to add — almonds, hazelnuts, pistachios, sunflower seeds, or whatever you have on hand.
Sauté chopped onions, minced garlic and thinly sliced kale until tender. Add them to the soup, along with a big squeeze of lemon juice. Top with parmesan cheese.
Sauté some chopped bacon and onions. Set aside a little bit of the bacon. Pour the soup into the saucepan, add some of the bacon and onions, and then add some cream. Once ready, pour soup into bowls and garnish with the reserved bacon.
These are just a few suggestions for you. I've tried adding pesto, nuts and croutons as well as the bacon bits and onions. Each time I have had a wonderful, savory experience eating my soup. My family tried it as well and they enjoyed it!
My go-to sides are slices of garlic bread or toasted baguette topped with mozzarella and fresh basil leaves.
What's in Campbell's Tomato Soup
While Campbell's Condensed Tomato Soup contains no artificial colors, no artificial flavors and no added MSG, it does have a good amount of fructose corn syrup in it.
The ingredients also include different types of salts for flavor and to reduce the amount of sodium in the mix. These include salt, low sodium natural sea salt, potassium salt and monopotassium phosphate. Lastly, they used wheat flour to thicken the soup.
So if any of those are deal-breakers for you, please skip this recipe.
Fixing the Problem of Curdling When Adding Almond Milk to Tomato Soup
If you're adding a can of roasted tomatoes to your soup, then you'd likely experience some curdling when you add the almond milk. This isn't much of a problem if you decided to heat the milk, so once you add it to the simmering soup, you'd be successful in integrating the milk to the soup.
Many recipes also suggest adding a bit of baking soda (as little as half a teaspoon) to your soup before you add the almond milk. Tomatoes are naturally acidic, measuring about 4.6 on the pH scale (pH of 7 is neutral, for example, water). Baking soda, on the other hand, is naturally basic or alkaline, measuring about 9 on the pH scale.
So the tomatoes and baking soda counteract each other in terms of pH.
Can you freeze your tomato soup with almond milk?
Unfortunately, soups that contain milk or cream, such as chowders and bisques, may not hold up well in the freezer. They tend to take on a grainy texture and separate when defrosted and rewarmed.
Print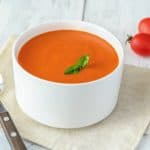 Campbell's Tomato Soup With Almond Milk
---
Total Time:

15

Yield:

2

1

x
Description
This tomato soup recipe is so easy to make that even your kids can do it! The measurements are made for two servings. If you're cooking for four, use double the amount; for five to six people, triple the amount.
---
1

can Campbell's Tomato Soup

1 cup

almond milk (or similar)

0.5 tsp

dried parsley flakes

1.5 tsp

red pepper flakes
A dash of garlic powder
Sprinkle of salt and pepper

1 1/2 tbsp

freshly minced garlic

1/4 cup

freshly grated parmesan

1 cup

star-shaped mini-pasta (optional)
---
Instructions
If you're adding pasta, prepare it according to package instructions.

Pour the can of Campbell's Tomato Soup and the almond milk into a sauce pan. Stir constantly while on low heat until the tomato chunks disappear.

As the soup begins to warm, add the parsley flakes, red pepper flakes, garlic powder, salt, pepper, and freshly minced garlic. Stir until they're evenly dispersed.

Slowly add in about half of the parmesan cheese until melted.

Once the soup is ready, pour into serving bowls and add the drained pasta (optional) to the soup. Sprinkle the rest of the parmesan.
Equipment
Notes
Feel free to add crackers instead of pasta; however, this soup is so flavorful and filling that you can do without either!
Prep Time:

5

Cook Time:

10

Category:

Soup

Cuisine:

American
Keywords: campbell's soup,tomato soup