What is Butternut Squash and Why is it so Great for Soup?
The butternut squash is one of the most popular types of winter squash that can be found in cooler climates. The butternut squash's versatility and sweet, nutty taste means that it can be used in many different types of dishes. For instance, it can be used in soups, like we're doing here, and it can also be roasted and eaten as a healthy side dish.
The Key Benefits of Sweet Potato & Butternut Squash Soup
This soup ticks two important boxes, it has lots of healthy ingredients and it is perfect comfort food. The ingredients are tasty and nutritious, so it is no wonder that the soup is so popular.
The benefits of butternut squash and sweet potato soup are many. It is low in calories, low in sodium and high in vitamins. The soup is also packed with fiber, which helps to keep you satisfied for hours after you eat it.
5 Tips to Make Your Butternut Squash and Sweet Potato Soup Even Better
Here are 5 tips to make your soup the best it can be:
Make sure that you use a good, flavorful stock. In this recipe we use vegetable broth as the stock, but you can substitute a different stock.
Add some honey for sweetness.
When it comes to the seasoning, try adding turmeric or curry powder for a slightly different flavor – or for something really different, add a little bit of chili powder or cumin along with some fresh chopped cilantro leaves.
You can try experimenting with some freshly squeezed lime juice to brighten up the flavors before serving!
Garnish with pumpkin seeds and serve with toasted sourdough bread.
Print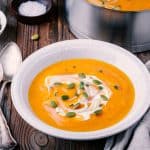 Butternut Squash Sweet Potato Soup
---
Description
This easy-to-make butternut squash soup is perfect for cold weather months. It's very healthy and features ingredients that are widely available at this time of year, it's like a taste of Autumn.
---
3 tablespoons unsalted butter

1.5 cups chopped yellow onions

2 pounds pre-cut butternut squash

2 medium peeled and cut sweet potatoes (approximately 1-inch chunks)

8 cups vegetable broth (or substitute a stock of your liking)

1 teaspoon salt

1/2 teaspoon freshly ground black pepper

3 tablespoons honey

1/8 teaspoon ground nutmeg

1/4 teaspoon ground mace

1/2 teaspoon ground cinnamon

1 cup heavy cream
---
Instructions
Over medium heat, melt the butter in a large pot. Add in the onions, cooking them on medium heat for about five minutes or until they are translucent. Stir occasionally to avoid burning .

Add the cut butternut squash, the chucks of sweet potatoes, the 8 cups of vegetable stock, salt and freshly ground black pepper to the pot. Bring it to the boil then cover the pot with a lid for about 15 minutes or until vegetables are soft. Turn the heat off. Add the honey and using a handheld immersion blender purée the soup until it is smooth. If you don't have an immersion blender, you can use a regular blender to purée soup in small batches, make sure that the blender is less than half full of soup when you're blending it. Leave the lid open while blending, just cover it with a dish towel. This will allow the heat escape while also preventing hot soup from spraying out of the top of the blender. Pour the blended soup into a clean pot.

Add nutmeg, mace, cinnamon and heavy cream. Bring the soup to a simmer – taste and add salt & pepper if needed.
Notes
Note: If you want to thicken the soup, cook over low heat until it is the consistency you want. It's also important to note, that this soup thickens as it cools. So you may not not need to simmer it to get the consistency you want. If it ends up being too thick you can add water to thin it out.
Freezer-Friendly Instructions: You can freeze this soup for up to 3 months. Defrost the soup in the refrigerator for at least 12 hours and then reheat it on stovetop. The soup will thicken in the freeze, so you may need to add water.
Prep Time:

10 minutes

Cook Time:

30 minutes

Category:

Soup
Keywords: butternut squash sweet potato soup