If you've been reading my blog for a while, you know that when the temperature drops outside, the soups come out! And, I'm not just focused on making delicious soups, but I'm passionate about cooking healthy, gut-friendly dishes for my family.
I've already tried making deliciously creamy soups out of broccoli and asparagus, although separately. Now, I'm using another nutrient-rich vegetable for making soup that's dairy-free and safe for people who are sensitive to gluten. It's also perfect for those who prefer a vegan or vegetarian soup.
I adapted a wonderful recipe over at Spicy Fig that uses coconut to add a new, exciting flavor to the traditional cauliflower mushroom soup. While the mushrooms lend an earthy flavor to the mild taste of cauliflower, the coconut milk increases the creaminess on top of the pureed veggies.
However, I'm not too keen on adding Thai curry paste, which I opted to leave out in my soup. But, if you'd rather have some spice in your dish, you can check out the recipe here for a yummy bowl of spicy, creamy cauliflower mushroom coconut soup.
Questions About Cooking with Cauliflower
Why do I need to roast the cauliflower?
Roasting creates a unique flavor profile for your soup. Cauliflower, when eaten raw as an ingredient of, say, a garden salad, tastes bland. Searing the florets transforms their flavor into something nutty and buttery. It also removes much of the moisture in this cruciferous vegetable. That helps make a thicker, creamier soup.
How do I roast the cauliflower without using an oven?
You can sear the florets on a pan. Pan-roasted cauliflower tastes just as good as oven-roasted ones.
Fire up your stove and sear the florets over medium-high heat. Cook them in a bit of olive oil until golden on one side, which is around 3 to 4 minutes tops. Flip and roast the other side, shaking the pan to make sure all sides are roasted.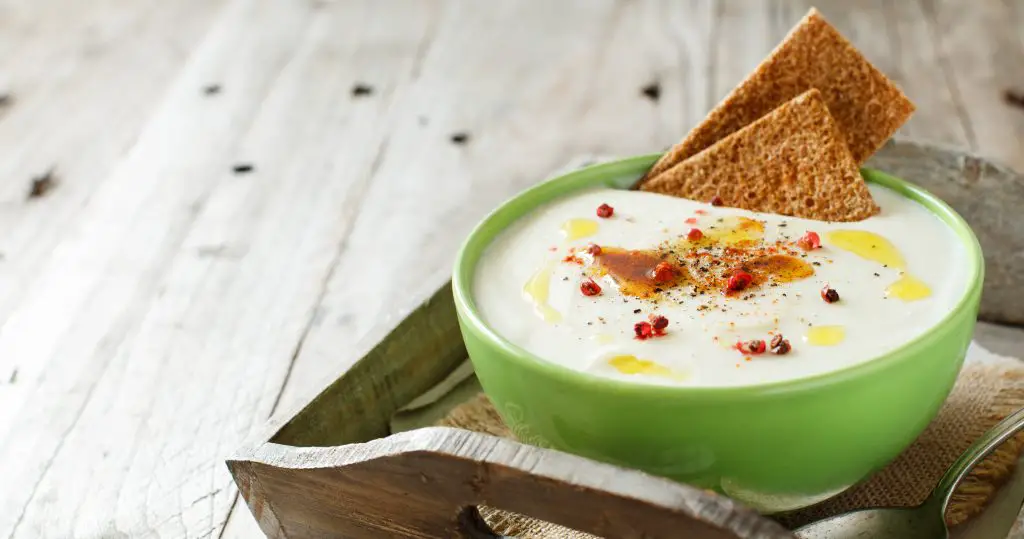 How do I pick the best cauliflower heads?
The place where you buy your veggies isn't as important as the quality of the vegetables you buy. The key is in developing a discerning eye in picking the best cauliflower heads to use for the soup.
Cauliflower that is free from browning, wet spots or "sun-burned spots" will stay fresh the longest. Make sure the head and stem feel firm; not too soft, but also not too hard. Select the ones with densely packed florets. Their leaves should be vibrant and firm, which means they were harvested recently.
How do I store cauliflower properly?
Once you get home, remove the cauliflower from its' packaging. If it stays inside a plastic bag or remains wrapped in cellophane, the moisture from the cauliflower gets trapped and will eventually cause it to rot.
To prevent this from happening, pat the cauliflower dry using paper towels or a clean, soft cloth. Store the heads in a plastic container lined with paper towels to prevent excess moisture from forming inside them. Punch several small holes around the cauliflower to allow air to circulate through the bag or plastic container.
You can store the cauliflower in the crisper for 4 to 7 days.
What are the health benefits of cauliflower?
Cauliflower is rich in fiber, which aids in digestion and promotes regularity. Fiber feeds the healthy bacteria in your gut that reduce inflammation. If your diet has sufficient fiber, you have a better chance of avoiding persistent digestive problems like constipation and inflammatory bowel disease (IBD).
Eating too much cauliflower, however, may result in bloating and excess gas. It interacts with gut bacteria, which produces excess gas inside the intestines and may cause gastrointestinal distress.
The health benefits of cauliflower don't stop at fiber, however. One cup of raw cauliflower provides over 75% of the daily minimum target for vitamin C, 20% for vitamin K and 10% for choline (an excellent brain food).
Print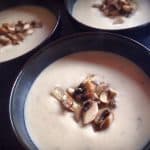 Cauliflower Mushroom Coconut Soup
---
Total Time:

50 minutes

Yield:

4

-6

1

x
1

large head of cauliflower, without the stem, chopped into small florets

6 tablespoons of extra virgin olive oil

1 medium onion, chopped

6 medium carrots, chopped

2 tablespoons ginger, chopped

2 garlic cloves, crushed with a utensil

1 teaspoon ground turmeric

5 cups vegetable broth (or chicken broth, but then this dish won't be vegetarian or vegan anymore)

1 can of coconut milk (about 14 oz. or 400 mL)

8 oz./250 g shiitake mushrooms, sliced

2 tablespoons coriander, minced

1 tablespoon chives, minced

salt and pepper
---
Instructions
Preheat your oven to 420F (or 21C)

Toss the cauliflower florets with 2 tablespoons of olive oil, salt, and pepper. Line a baking tray with parchment paper and place the tossed florets on it. Leave in the oven for 20-30 minutes until the cauliflower begins to brown.

While the florets are in the oven, sauté the onions in a large pot over medium-high heat with 2 tablespoons of olive oil. Sauté until the onions become translucent.

Lower the heat to medium and add the carrots. Cook until the carrots start to soften, stirring occasionally.

Add the garlic, turmeric ginger, and cook until fragrant (about 1 minute). Stir often to stop the garlic from burning.

Add the stock and bring it to a simmer.

Add the oven-roasted cauliflower when the stock is simmering. 

Partially cover the pot with the soup and simmer for about 5-10 minutes.

Add the coconut milk.

Use an immersion blender to blend the soup until smooth and let it continue to simmer.

In a small saucepan, heat 2 tablespoons of olive oil. Add the sliced mushrooms when hot.

Cook the mushrooms until they are soft. Add salt and pepper to taste.

Mix the chives and coriander into the mushrooms.

Fill your guest's bowls with soup and garnish with a few tablespoons of mushrooms
Prep Time:

15 minutes

Cook Time:

35 minutes