Throughout history, chicken soup and noodle soup have been fed to the sick because of their supposedly curative properties. They are certainly effective in nourishing those who barely have appetite and aren't able to keep food down. They both use light broth made from chicken and vegetables, which makes these soups highly nutritious and easy to digest.
But, the idea of combining these two soups is quite brilliant. We have Campbell's to thank for that!
Originally, the soup was called "Noodle with Chicken Soup," but five years after its' debut in 1934 people started calling it chicken noodle soup. That's largely because of a radio announcer's faux pas, but the novelty of the name and the hype over this "new soup" following that radio ad cemented the soup's iconic reign as the soup of the day in American households.
My research into chicken noodle soup's history has certainly been enlightening and I've made many different variations of this soup. The recipe I'm sharing today is for chicken noodle soup with pastina.
What is Pastina?
Pastina simply means "little pasta" in Italian and it comes in many varieties. Because it's often used in making soups, pastina now also means the Italian-style chicken soup with the little pasta in it.
Most of the recipes I came across in my research use stelline pastina, which is pasta shaped like tiny stars. For this soup, however, I'm using a type of pastina called the farfalline, which are shaped like tiny bow ties or butterflies. If you'd rather have a different variety, you may choose from the visual chart below.
Please note that each pasta variety has a different cooking time. While stelline cooks in about 7 minutes, the farfalline takes 9 to 10 minutes to cook.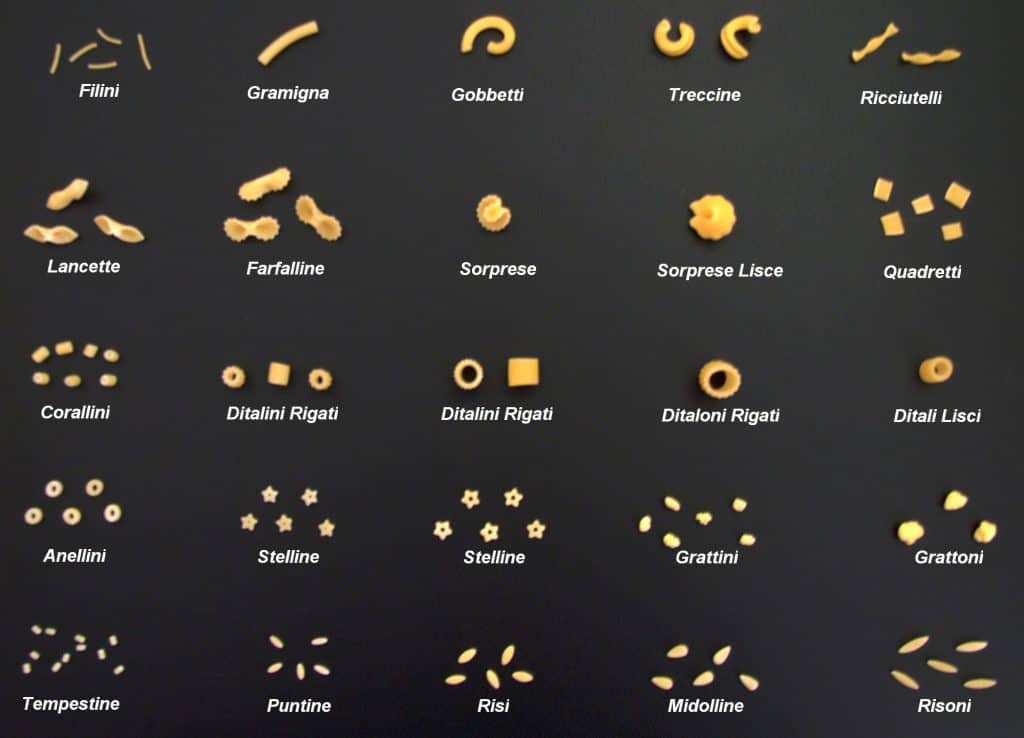 Making Chicken Noodle Soup with Ready-Made Broth
If I were asked to choose between making broth for soups from scratch and using a commercially available broth, I'd choose the former. It's more flavorful compared to commercial brands. I also find it's quite economical because I don't have to buy fresh ingredients to make it. I can always use vegetable scraps and leftover meat and bones instead.
Making the broth typically takes a couple of hours of slow cooking, which isn't ideal for a busy mom like me. And so, I have to be creative in preparing and cooking food for my family in the shortest time possible, so I can spend more time in managing my household and taking care of my kids and my husband.
I've been using my trusted Instant Pot to make different kinds of soups. It's also useful in making a large batch of broth, which I store in the fridge and reheat whenever I need it.
Is it Mirepoix or Battuto?
As with most soups, a base is required. For chicken noodle soup, a mirepoix is needed.
We've discussed this base before. Mirepoix (pronounced meer-pWAH) is an essential flavor base that the French make for their soups and stews. It's created by sauteing carrots, celery, and onions in olive oil or butter.
For Italians, this base is known as "battuto" and it's usually made of 50% onion, 25% carrots and 25% celery. You can add fresh herbs, like rosemary and thyme, if you want, or simply add shallots, which taste like a combination of onion and garlic.
What's the right size when cutting your vegetables?
It may sound nitpicky to recommend a size when cutting or chopping your vegetables. Most often, mirepoix vegetables are finely chopped.
Here's a general guideline for beginners and not-so beginners in cooking:
For sauteed recipes, cut your veggies into small pieces (¼ inch to ½ inch).
For soups and stews, cut them into medium-sized pieces, which may be around ½ inch to 1 inch.
For stock, broth, or blended soups, cut them in large pieces (around 1 to 2 inches).
Finally, it's important that you cut everything approximately the same size so that your vegetables will cook evenly.
If you're making homemade broth, then it would take you 2 to 3 hours more. It's best that you cook the broth in advance and in a large quantity. Store in jars or thick air-tight plastic bags in the fridge for 3 to 4 days or you can keep it in the freezer for several months.
Unfortunately, this chicken noodle soup with pastina will not store well. Pasta tends to bulk up, absorbing more of the broth, and turns to mush. Make sure you cook just enough soup for the people who will be eating at your dining table. Once you serve the soup, it has to be consumed straight away and don't leave leftovers.
Print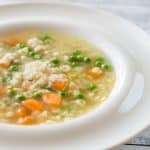 Chicken Noodle Soup With Pastina
---
Total Time:

40 minutes

Yield:

4

1

x
Description
This soup is very popular among Italians. It's often served to those who are unell and may need an easily digestible source of nutrition. It's easy to make and a really filling treat for kids and adults alike!
---
1½ tbsp

olive oil

2 tbsp

butter

1

medium onion, finely chopped (about

1 cup

)

1

large carrot, finely chopped (about

1/2 cup

)

1

celery stalk, with leaves, finely chopped

3

garlic cloves finely minced

2 quarts

chicken broth (homemade or store-bought)

2 cups

shredded cooked chicken

1 cup

dry pastina

grated parmesan cheese
---
Instructions
In a large stock pot, heat up the olive oil and butter over medium heat.

When the oil is hot and the butter has melted, add the chopped onion. Stir and cook a few minutes until the onion begins to soften.

I'm cooking the onion first to make sure the sharp, raw onion taste doesn't overwhelm the flavors of the other vegetables.

Then, add the carrots and celery and cook for about 5 minutes.

Next, add the garlic and cook for another minute.

And then, add the chicken broth and bring to a boil over low heat.

Add the pastina and cook it according to package directions. For farfalline, I'm cooking it for 10 minutes tops or until

al dente

.

When the pasta is cooked, add the shredded chicken and heat thoroughly.

Salt and pepper to taste.

Ladle into bowls and top with grated parmesan. Serve with garlic bread.
Prep Time:

10 minutes

Cook Time:

30 minutes

Category:

Soup

Cuisine:

Italian