Soup can be made into a healthy, balanced meal instead of making it as a simple appetizer or side dish. Chicken soup has strips of chicken in it and ramen often has slices of meat mixed in. But, that's not going to work when you're a vegetarian or vegan.
One way is to use a meat substitute, such as soy curls. Another option is to replace the meat with another protein source, such as legumes. That seems to be the best way to get your proteins without meat.
Knowing this, I immediately searched for a vegan soup inspiration. Naturally, Jamie Oliver's tomato and red lentil soup caught my eye. It's such an easy soup to make and the recipe is totally vegan!
While the recipe instructs us to chop and cut up the veggies while cooking, I chose to do that beforehand because I like to be organized and neat.
How nutritious is this soup?
This soup recipe offers a complete meal! Lentils are high in fiber and protein while tomatoes are rich in Vitamin C and other antioxidants. Meanwhile, spinach has potassium, magnesium, and vitamins B6, B9, and E.
Instead of white potatoes, the soup makes use of sweet potatoes, which are rich in phytochemicals like beta carotene and anthocyanins.
All these nutrients help in increasing your energy, strengthening the immune system, boost blood circulation, and ultimately improve your overall health.
This list of health benefits could go on and on, but what I have learned from my research is enough to convince me this is the kind of soup that would benefit me and my family. Now, the only question is: will my kids take to it as they did with my previous soups made with asparagus, broccoli, and cauliflower?
Which herbs and spices can you use?
This tomato and red lentil soup is a Jamie Oliver copycat, which means the herbs and spices I used were exactly the same. It has a sort of Indian flavor because of the coriander, turmeric, and cumin. However, if these were not to your taste, you could exchange them with basil, oregano, and thyme — making it with a more Italian flair.
Red lentils cook faster, but if you're replacing them with brown or green lentils, make sure you adjust the cooking time. Green lentils, in particular, take longer to soften.
When using green or brown lentils, make sure you don't add the tomatoes first. Acidic ingredients can prevent lentils from softening. Also, be sure to buy fresh lentils. The ones that remained in storage for a long time don't turn out well.
How long can you keep the soup in the fridge?
Store the soup in an air-tight container. It can stay edible and nearly fresh in the fridge for up to 3 days. However, the broth may thicken up while in the fridge. Add water to thin the broth before you pop it in the microwave or in the pot to reheat it.
Print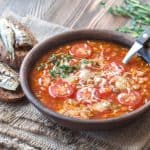 Tomato And Red Lentil Soup (Jamie Oliver Copycat)
---
Total Time:

35

Yield:

6

1

x
Description
The soup only takes an hour or so to make. It provides four servings of this hearty potage that can warm you up while providing a rich array of nutrients.
---
1.5 tsp

olive oil

1

white onion

3

cloves of garlic

1

sticks of celery

1

small bunch of fresh coriander

1.5 tsp

turmeric

1 tsp

ground cumin

2.8oz

(80g) spinach

2

medium (about

16oz

or

450g

) sweet potatoes

6

large vine tomatoes, (about

10.5oz

or

300g

), roughly chopped

11oz

(320g) red lentils

1

litre organic vegetable stock

4 tbsp

natural or

0

% Greek yoghurt
Wholewheat bread, to serve as a side
---
Instructions
Place a large pan on medium heat and coat the surface with a little oil.

Peel the onion and garlic, then roughly chop them up with the celery. Then, add them to the pan.

Chop the coriander stalks finely and add them in. Then, saute for 8 to 10 minutes or until they're golden brown and soft.

Next, add the spices and keep cooking for another couple of minutes. Stir every so often to combine everything. You should smell a nice aroma by now.

Peel and roughly chop the potatoes. Roughly chop the tomatoes as well. Add the potatoes and tomatoes to the pan, along with the lentils and vegetable stock.

Bring to a boil and then turn down to a simmer for 25 to 30 mins, or until the potatoes are soft and the soup has thickened. If it's too thick, add more water until it's the consistency you want.

Lastly, stir in the spinach if you choose to add it and then season with salt and pepper.
Equipment
Notes
You can stop cooking as soon as you've added the spinach. There's a bit of chunkiness to the soup, which is an enjoyable experience for some. However, if you want a mix of textures, you may want to take out a few ladlefuls and blitz that, before adding that back into your soup.
Serve up into bowls with a dollop of natural or Greek yogurt, top with the picked coriander leaves, and serve with some toasted wholewheat bread.
Prep Time:

10

Cook Time:

25

Category:

Soup

Cuisine:

British