I have to admit it took me some time to finesse my technique for making caramel sauce. The steps looked simple and the ingredients were few, but I found it wasn't that easy to heat granulated sugar just right to get the beautiful amber syrup.
I remember my earlier attempts often resulted in a less sweet and more bitter-tasting sauce. It wasn't quite a waste of time and ingredients, however, because I was able to use that dark caramel for baking and dessert-making.
In time, I refined my technique and I was more than ecstatic with the results.
When does caramel sauce start to caramelize?
When making caramel sauce, you must remember when to stir and when to whisk in the cream. Too soon and you'll have a sticky, clumpy mess; too late and it's just as bad.
Pure sugar starts to thicken at around 245° F to 250° F, which kitchen connoisseurs call the firm-ball stage. That's when you drop a little of the syrup into cold water, it will form a firm ball. It will not flatten when you take it out of the water and will remain malleable. It will only flatten when squeezed.
When the heat reaches 338° F, the melted sugar starts to brown. At this point, the sugar compounds begin to break down and new compounds form.
That's why when you're making caramel sauce, it's better to use a candy thermometer. Cook your sauce at a temperature between 338 and 350 Fahrenheit. If you turn up the heat up above 350, the caramel starts to burn and will taste bitter. If you set the heat below 338 and you won't achieve proper color and caramelization.
If you want your caramel sauce to have a sweet and simple flavor, simply cook the sugar syrup until it's a pale, honey-colored hue. However, 
If you would rather have a darker caramel sauce with a slightly bitter taste, then wait for it to turn a golden amber hue. 
In either case, you'll have a thick and gooey caramel sauce once it cools down.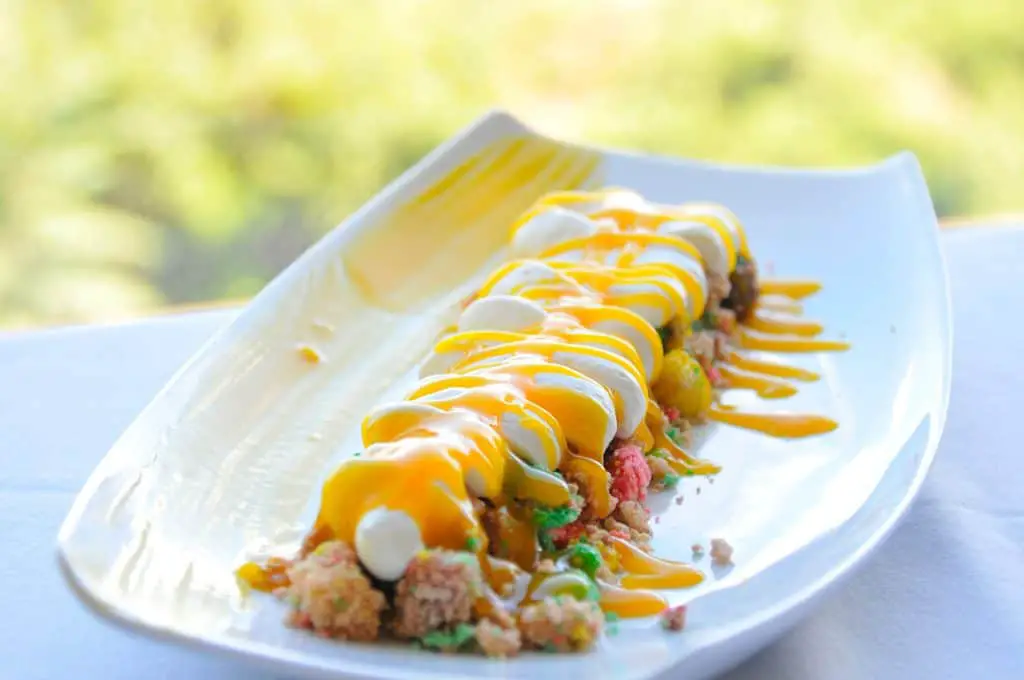 Two Ways to Caramelize Sugar
There are two classic methods of making caramel: dry and wet. 
The dry method simply heats the sugar until it turns an amber color. Because you're not adding water to slow down the caramelization, you will likely burn it and make it too bitter if you didn't pay attention to the sauce.
The wet method doesn't only use water to help you control the caramelization. At some point, you'll need ingredients like cream, milk and butter for your sauce to have a creamier, smoother texture. As it thickens, add a dash of citrus, fresh herbs or some aromatics like ginger to create more complex flavors in your caramel sauce.
A Simple Recipe for Caramel Sauce
Perhaps, the most basic recipe for caramel is the Vietnamese nuoc mau, which translates to "colored water." The ingredients are simply granulated white sugar and warm water.
First, you must cook the sugar by dry method, letting it melt and turn dark. Only when you see it start to smoke, which means it's burning, should you add warm water to slow down the cooking process. This also thins the sauce, making it suitable as a base ingredient in braising meat or as marinade.
A One-Ingredient Caramel Sauce
Most of the time, people take the easiest route, which is to simply heat up sweetened condensed milk until browns. Many people think of this as caramel although it's closer to dulce de leche. 
But, when I need to add a caramel topping or filling to a dessert recipe or make caramel sauce on the fly, I use caramelized condensed milk as a quick fix. If I wanted to thin it, I just add water.
There are, of course, other ways to make a caramel sauce. Some like it bitter, some like it salted. You can tweak the recipe to match your taste.
It's also a habit of mine to try new things. Did you know the French have their own version, called gastrique, which incorporates vinegar to balance out the overly sweet flavor? 
Meanwhile, there's this chef in St. Louis who ingeniously added fish sauce to the caramel to even out the sweet taste with a bit of saltiness. This makes a nice marinade, dressing, or glaze for many Southeast Asian dishes. These are just a few of the caramel sauce recipes I'm planning to learn in the future.
Print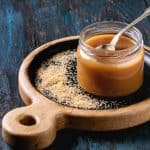 How To Make Caramel Sauce
---
Total Time:

10 minutes

Yield:

About

1 1/2 Cups

1

x
Description
As far as caramel sauces go, this one is really tasty and really easy to make.
---
1 cup

sugar

6 tbsp

salted butter, cubed, room temperature

1/2 cup

heavy whipping cream, room temperature
---
Instructions
Pour sugar into an even layer in a large sauce pan.

Heat on medium-high heat, whisking the sugar until melted. The sugar will clump up first, but will eventually completely melt. This will take about 10 minutes.

Once the sugar has melted, stop whisking. Allow it to cook until the sugar has turned to a little darker amber color to get a deeper caramel flavor if you like. You may notice a nutty aroma. The change in color will happen quickly, so don't let it go too long or get too dark or it'll burn. Remove the caramel from the heat.

Add butter and whisk until combined. The mixture will bubble up, but keep whisking until all the butter has melted and combined.

Slowly pour the heavy cream into the caramel and whisk until incorporated. I find it can help to add just a bit at a time until the caramel starts to thin out, then you can add the rest.

Cool for about 10-15 minutes before using. Store leftovers in a jar with a lid. Refrigerate up to 2 weeks.
Prep Time:

5 minutes

Cook Time:

5 minutes

Category:

Dessert

Method:

Stove

Cuisine:

American