With Thanksgiving over, Christmas is just around the corner. One thing I look forward to on Christmas Eve when I was a kid was my grandma's Spanish flan.
We are not of Spanish descent, but my grandma's best friend was half Spanish. She used to bring us Spanish desserts and the flan was my favorite. As grandma started making it on her own, it was one of the recipes I asked her to share with me when I started to do my own stuff in the kitchen.
It's easy to prepare and doesn't usually take more than 15 minutes. After preparation, all you have to do is pop it in the oven and wait for an hour. You can do so much more in that timeframe, especially if you're cooking a feast.
I like to have this delectable dessert after a sumptuous meal of grilled or roasted meat. But really, you can have it anytime even when it's not Christmas. On a normal day, it's a great treat to enjoy just because.
It has a rich caramel syrup on top of creamy custard, so what's not to love about this dessert? Even my kids love it and we have it every now and then even if it's not a special occasion. 
Spanish flan is something you can make ahead of time in batches if you have family gatherings or even simple lunches and dinners. Also, I'll let you in on a little secret. For some reason, I like to curl up on the couch late at night and watch a movie on low volume while indulging in some Spanish flan.  
Ssshhh… I sneak it sometimes. I'm a busy momma, but I need some me time, too! This is my idea of destressing after a crazy day of mommy-ing. LOL.
So there. Special occasion or not, Christmas Eve or just a regular crazy day, this is something you can easily enjoy without preparing much. But just because it's the holiday season, let's allow ourselves to indulge in this super easy Spanish flan recipe.
If you've tried making this before, then you know how easy it is to make. If you haven't, now is your chance. I'll show you the easiest way to make it, so don't feel intimidated. I promise you, it's worth it!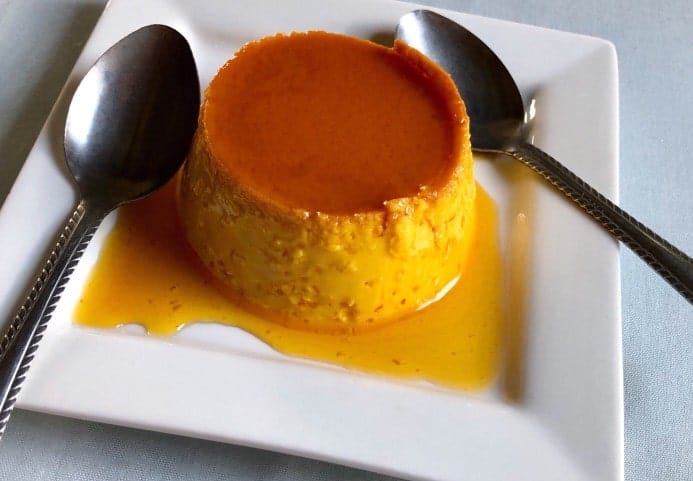 What Is a Spanish Flan?
Spanish flan is a classic dessert that has the balance of bitterness that comes from the slightly burnt caramel, the sweetness that comes from the sugar, and the creaminess from the milk and eggs. 
Over the years, there have been several versions of flan and it is named differently in different regions. Depending where you are in the world, it's known as leche flan, egg flan, flan de huevo and milk flan among others.
If this is something new to you, the closest I can describe it would be crème brûlée. They are similar in a way that they both consist of custards and a layer of melted or "burnt" sugar on top but they differ in several ways as follows.
How they are prepared. Crème brûlée is usually cooked and served in ramekins or individual containers while Spanish flan is cooked in a loaf pan, Bundt pan or tube pan and served in slices.
Texture. Crème brûlée is creamier and more pudding-like. It has a crisp layer of burnt caramelized sugar on the top. 
On the other hand, Spanish flan is firmer and has a consistency similar to jell-0. Its' caramel on top is soft and runny, unlike crème brûlée. How they are served. Crème brûlée is eaten straight out of the ramekin using a spoon. On the other hand, Spanish flan is turned upside down out of the dish to get the soft caramel on top of the flan then sliced into small pieces before serving.
Print
Super Easy Spanish Flan Recipe
---
Total Time:

5 hours 35 minutes

Yield:

Approximately

8

servings

1

x
Description
This super easy Spanish flan recipe uses only four ingredients. Although it's easy to make, it's also really delicious. If you've never tried Spanish flan, then try this recipe soon!
---
1 1/2 cups

white sugar

4

large eggs

2 cups

whole milk

2

vanilla beans or

1 teaspoon

vanilla extract
Other kitchen items you will need:
9

-inch round glass baking dish

A bigger rectangular baking dish that would fit the round one

Warm water for the water bath

Medium saucepan

Large mixing bowl

Mesh strainer

Aluminum foil

Serving plate
---
Instructions
Preheat oven to 350°F.

Place the round baking dish in the middle of the rectangular dish. Fill the rectangular dish with warm water until about ½ of the round dish at the sides is submerged. Set aside.

Cook 1 cup sugar in the saucepan over medium-low heat until dissolved. Stir constantly and let it liquefy. It should be amber color when done.

Immediately pour the melted sugar into the round baking dish. Let it stand while you work on the flan.

In a large mixing bowl, whisk the eggs and remaining ½ cup of sugar for 2-3 minutes or until creamy.

Add the milk and vanilla. Stir until well combined.

Pour the mixture onto the round baking dish through a mesh strainer to remove air bubbles and cover with aluminum foil.

Keep the baking dish with your uncooked flat submerged in the water in the rectangular dish and put them in the oven. Bake for about 60 minutes. Check the consistency to see if it has become wobbly like jello. If it doesn't have that consistency yet, bake for another 5 minutes.

Remove from the water bath and let cool to room temperature. Refrigerate for at least 4 hours.

Remove the aluminum foil and run a knife around the sides between the baking dish and the flan.

Cover the baking dish with a serving plate that has been turned upside-down. Flip the baking dish onto the serving plate. The caramel syrup should run on top of the flan-like sauce.

Slice and serve.
Notes
There is a resting time of 15 minutes after the cooking. It is recommended to chill for 4 hours.
Prep Time:

15 minutes

Cook Time:

1 hour 5 minutes