A few posts ago I shared with you how to save leftover cake with frosting by turning it into cake pops. They're usually a hit with the kids because I let them choose what chocolate and toppings they want and let them decorate their own.
Sometimes they want rainbow sprinkles, other times they want to play around with chocolate drizzle. I, on the other hand, always prefer mine with dark chocolate and rolled over chopped nuts. I secretly add a dash of liquor in my melted chocolate for some kick. Of course, I make sure to keep that special ingredient away from the kids. ?
But really, there are so many ways to make and decorate your cake pops. You can even make rainbow or colored cake pops if you want so it would fit several themes whether for birthdays or other occasions.
While many of you have taken on the challenge of saving your leftover cakes, I received a great question that led me write to this post. What if I don't have leftover cake? How do you make cake pops from scratch?
It's a very practical question because cake pops are good desserts and you don't have to wait for leftover cakes before you can make them. 
In fact, they are something I find fun making for simple gatherings with family and friends. As I said, you can add a little kick to the cake pops for adults and keep the ones for the tiny tots wholesome and fun. 
Whatever the case, I'll show you how to make cake pops without using leftover cake. Let's start from scratch so you'll see how to do it anytime.
I'll try to keep this as simple as possible to save you time in case you're prepping for a party. You can even make this in advance to give you time to do other things and prepare other treats.
What Are Cake Pops?
Cake pops are basically cake rolled into balls and styled like lollipops. In other words, lollipop cakes, thus the name cake pops.
They are made from cake crumbs mixed with frosting and formed into tiny circles or cubes, coated with icing or melted chocolate. Then they're topped with edible decorations according to your preference. Lollipop sticks are inserted in the middle of these cake balls to make them look like lollipops.
You can make them from scratch or use leftover cake as your base, but it basically is the same concept of crumbling the cake before forming it into your desired shape.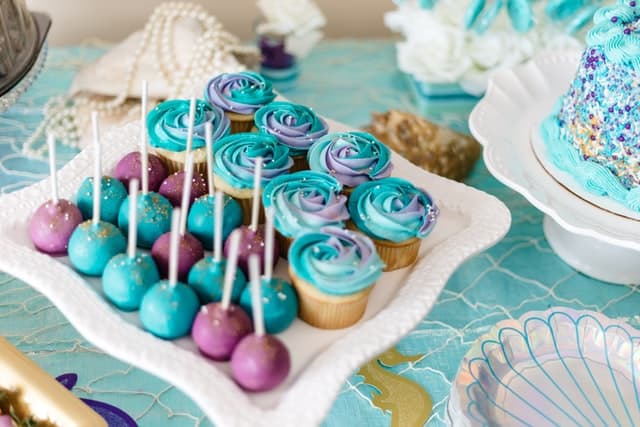 Tips in Making Cake Pops
I must admit that I messed up some cake pops before. Although they are easy to remedy, I'll let you in on some simple tips to make sure you don't mess yours up.
Don't add too much frosting. 
Excessive frosting is one of the most common mistakes in making cake pops. Remember that most cakes are already moist on their own. What you consider little may already be too much. Therefore, add literally as little frosting as possible and add a little bit more if needed.
What I  do is leave some crumbs behind so that in case I over add the frosting, I can balance it out with more cake crumbs.
Your hands are the best mixers.
You can mash the cake into crumbs using a fork, but it's important to mix them later with your hands. This will help you get a feel of how moist or dry the cake has become. The perfect mashed cake should still feel a little crumbly even after combining with the frosting.
Use a mini ice cream scoop to measure the cake pops.
I tried using a spoon and it works well. However, using an ice cream scoop will give you much better results. If you're doing cake pops for gatherings and you need really uniform sizes, go for the ice cream scoop.
Deep and narrow cups work best for dipping.
After trying several methods, I found that the least messy was when I used a deep and narrow cup. When the lollipop stick is inserted into the cake pops, it should be easier for you to do the dipping without getting all messy.
You need a styrofoam holder.
I used to only use a lined baking sheet for drying my cake pops, but it's messier than I'd like it to be. Styrofoam is inexpensive and makes a great holder, so I use that instead.
Box cake works, too.
You know those lazy days when you want to get things done, but just don't have the energy to start from scratch? You don't have to take the long route all the time as long.
It's fine to use a box cake and make your own frosting. It'll almost tastes the same. It's not even noticeable so you can save time making the cake and spend more time decorating your cake pops.
After going through these tips, it should now be easier for you to make cake pops. If you have a recipe for cake handy that you want to use for cake pops, feel free to use it. However, for easy prepping, I will use a box cake mix for this recipe.
Additional Tips
There's so much you can do with cake pops. Here are some of the topping combinations you may want to try:

Milk chocolate + rainbow sprinkles
Milk chocolate + white chocolate shavings
Milk chocolate + chopped nuts
Milk chocolate + peanut butter drizzle
Milk chocolate + white chocolate drizzle
Milk chocolate + crushed Oreos
White chocolate + crushed Oreos
White chocolate + chocolate sprinkles
White chocolate + dark chocolate shavings
White chocolate + rainbow sprinkles
White chocolate + chopped nuts
White chocolate + milk chocolate drizzle
While chocolate + dark chocolate drizzle
Dark chocolate + white chocolate shavings
Dark chocolate + chopped nuts
Dark chocolate + peanut butter drizzle
Dark chocolate + rainbow sprinkles
Dark chocolate + white chocolate drizzle

Freeze or refrigerate leftover cake pops.
If you want colored cake pops, take advantage of colored candy melts.
If you want other cake options, you can also use red velvet or vanilla cake mix.
For party favors, you can cover each cake pop with clear plastic and tie a pretty ribbon around it.
Print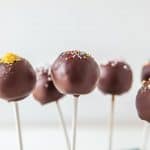 How to Make Cake Pops From Scratch (Without Leftover Cake)
---
Total Time:

2 hours 20 minutes
Description
How to make moist cake pops easily using ready-to-bake cake mix.
---
Chocolate box cake mix

2

big spoonful of chocolate frosting

Candy melts

Your choice of toppings such as chopped nuts, chocolate shavings, sprinkles, or crushed Oreos 
Other Kitchen tools you will need:
Large mixing bowl

Fork

Mini ice cream scoop

Lined baking sheet

Deep and narrow cup

Cake pop sticks or lollipop sticks

Styrofoam holder
---
Instructions
Bake the cake according to the package instructions.

Let it cool down for about 20 minutes after taking it out of the oven.

Scoop the cake out and mash it with a fork in a large mixing bowl.

 Add in the frosting in small batches. Remember to use your hands at this point so you can assess the texture properly. You need the cake to still feel a little crumbly while also holding a shape well.

Scoop out the cake mixture using the ice cream scoop.

Roll the mixture into a ball and let it rest on a lined baking sheet. Repeat until you've rolled all the cake mixture into balls.

Place the candy melts in a deep and narrow cup. Melt in the microwave in 30-second intervals. Stir between intervals to ensure you don't burn the chocolate.

Dip the tip of the cake pop sticks in melted chocolate and insert them in the middle of each ball.  

Place the cake pops onto the lined baking sheet and freeze for about 30 minutes.

Reheat the melted chocolate.

Take the frozen cake balls out of the freezer and dip them into the melted chocolate until fully covered. Let the excess chocolate drip off. 

Roll into your topping of choice before the chocolate hardens.

 Stick each cake pop into the styrofoam holder and let the chocolate harden completely.

Chill for at least 30 minutes.

Serve and enjoy!
Notes
There is a resting time of 20 minutes after cooking. Cake Pops Forming time is 15 minutes. Another resting time for Cake Pops for 30 minutes. Then it is recommended to chill for 30 minutes.
Prep Time:

10 minutes

Cook Time:

35 minutes