I have nothing against store-bought caramel sauce. It's great for a quick drizzle here and there or as a fancy dip at an impromptu get-together with friends. But when you're hungry for a full melt-in-your-mouth, lick-it-clean experience, homemade caramel sauce is your best choice as a topping, filling, and frosting.
What's even better is that making a thick caramel sauce only takes 20 minutes or so, using just a few ingredients. It's the kind of recipe that a busy mom of three like me can truly appreciate.
Sometimes I like to add a dollop to my coffee or tea as a substitute for table sugar. I also enjoy using it as a sweetener in my shakes or as a topping on ice cream or brownies.
My kids' favorite, however, is to drizzle the sauce on their pancakes and waffles. They also enjoy dipping slices of fresh fruits into a bowl of caramel sauce. We particularly love snacking on caramel-coated bananas and apple slices.
Imagine my delight when I found this simple recipe for making a thick caramel sauce from Joanne at Fifteen Spatulas. It's the caramel sauce recipe of my dreams!
Most of the time, people heat up regular or brown sugar in water until it turns into a smooth and creamy sauce. You can also make caramel sauce with a unique, extra-sweet kick using sweetened condensed milk.
If you want your caramel sauce to have a sweet and simple flavor, simply cook the sugar syrup until it's a pale, honey-colored hue. However, if you'd rather have a darker caramel sauce with a slightly bitter taste, then wait for it to become a golden amber hue. In either case, you'll have a thick and gooey caramel sauce once it cools down.
Tips For Making A Thick Caramel Sauce
Adding milk instead of heavy cream will make it thinner and runnier. To fix this, let the sauce simmer on medium heat for 5-10 minutes until it thickens.
Occasionally stir your sauce until the excess liquid has evaporated. You may want to stir low in the pot to make sure the sauce doesn't stick to the bottom and sides of the pan.
Let's say, you have a jar of caramel sauce that's a little runny. You can thicken it by letting it simmer on medium heat. Then, let it sit for a few minutes until it's cooled down.
Another option is to add cornstarch. For each cup (240 mL) of caramel sauce that you need to thicken, run 1 tbsp (14.7 mL) of cold water into a measuring cup and slowly stir in 1 tbsp of cornstarch. Pour the cornstarch mixture into your pot of caramel sauce while stirring constantly.
Instead of cornstarch, you can also use 2 tablespoons of flour or 1 1/2 tablespoons of tapioca starch. Make sure you evaporate some of the liquid in your sauce before adding thickeners.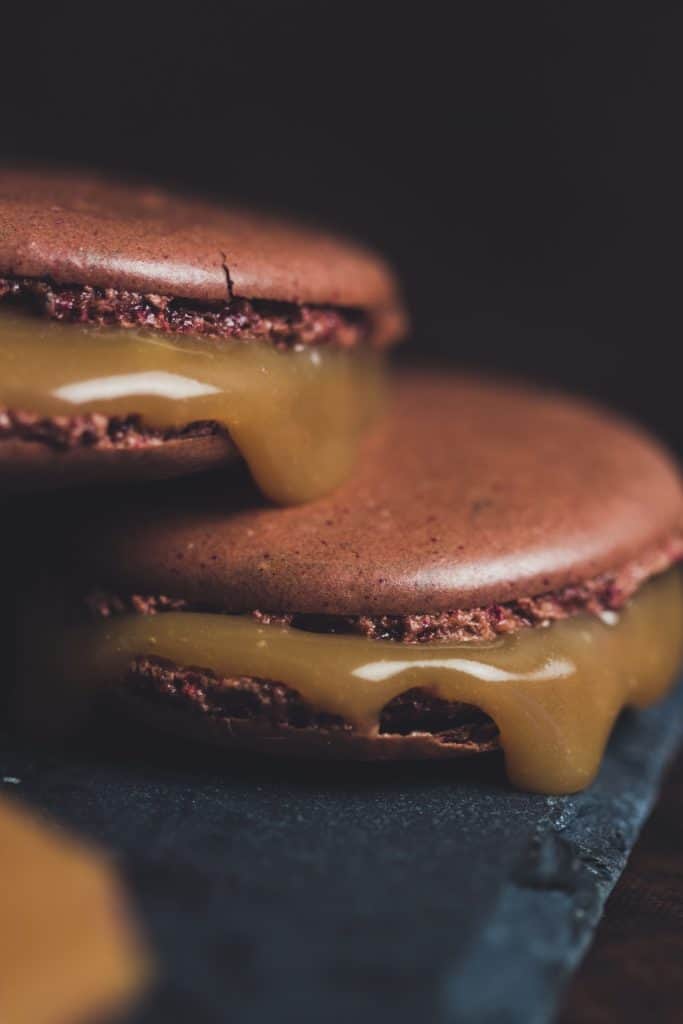 Tips For Storing Your Caramel Sauce
Your homemade caramel sauce will last 3 days at room temperature, at least one month in the refrigerator and up to 3 months in the freezer.
Caramel sauce needs to be refrigerated because of the cream and butter. It will get very thick as it cools, so reheat it when necessary.
If you stored the sauce in the freezer, thaw it in the fridge or in a water bath before warming it up. To warm, place in the microwave for 30 seconds to heat through.
Questions About Crystallized Caramel Sauce
Why does your caramel sauce crystallize?
Normally, you'll find a few spots of crystallized sugar on the sides of the pan while cooking. This happens when water evaporates and the sugar granules turn into crystals again. And, this sets off a chain reaction for the entire pan.
How do you keep your caramel sauce from crystallizing?
The easiest way is to use a wet pastry brush to wash down the sugar from the walls of the pan. Another trick is to put a lid on the pan for a minute or two when you see crystals forming. The steam forms condensate inside the lid and wash the sugar crystals down the sides.
Another option is to use a little bit of corn syrup to prevent crystallization. However, not many people like to add corn syrup. So, why not use inverted sugar syrup instead?
Pastry chefs like using invert sugar because it can inhibit or slow down crystallization and it keeps baked goods fresher for longer. Also, invert sugar can be used to sweeten cold drinks instead of table sugar. And, it's simple enough to make at home using table sugar (sucrose), water, and acid from cream of tartar, citric acid or lemon juice.
Finally, never stir your caramel sauce until you are adding the cream. Once the mixture has come to a boil, do not stir. The urge may be hard to resist, but stirring the sugar will result in a grainy sauce.
Can you still fix your crystallized caramel sauce?
Absolutely! You don't need to start over or throw everything away. Just add a 1/4 cup of water and bring the sugar back to a boil. Heating it up with the water should re-dissolve and moisten the crystals. Then, you can proceed with the recipe and start getting some color on the sugar.
Print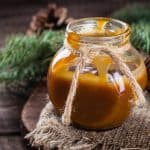 How To Make A Thick Caramel Sauce
---
Description
This recipe is great for making caramel to drizzle on pancakes or waffles, for dipping slices of fresh fruits, or to use as a sweetener in your favorite warm drink.
---
1 cup

granulated sugar

1/3 cup

water

3/4 cup

heavy cream

2 tbsp

salted butter*

1 tsp

vanilla extract optional
---
Instructions
Add the sugar into a heavy-bottomed saucepan, then shake it gently until it forms an even, flat layer.

Pour the water on top to fully moisten the sugar.

Place the pot over medium heat. Cook until the sugar dissolves and turns clear after a few minutes.

Raise the heat to medium-high. Scrape down the sides of the pan and let the sugar boil, without stirring, until it turns golden amber in color, which is about 10 minutes.**

Turn the heat off and immediately add the heavy cream. It's okay if the caramel seizes up.

Add the butter and stir everything together until the caramel smooths out. If it's still clumpy, turn the heat back on to medium and gently stir for a few minutes until it's smooth. When finished cooking, add vanilla extract if desired.

Let the caramel sauce cool to room temperature, then transfer to a jar and refrigerate.
Equipment
Notes
You can also use unsalted butter and add around 1/8 teaspoon of salt to taste.
If you have a candy thermometer, the temperature target window is between 338 and 350 Fahrenheit. Above 350 and the caramel starts to have that burnt odor and will later taste bitter. Below 338, and you may not have that proper color and caramelization.