How To Make Brownie Brittle
There are two kinds of brownie lovers – the ones who prefer the soft, chewy center; and the ones who go for the edges. I go for the crunchy edges!
Don't get me wrong, I love all brownie parts. But I love the edges more.
I used to buy those big bags of brownie brittle from the store. Heck, I can eat the whole bag by myself!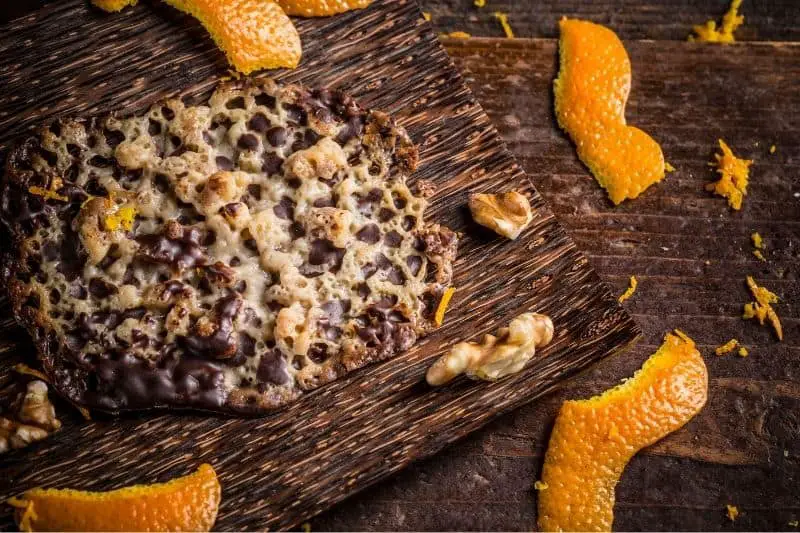 But I warn you. Those treats are expensive, so I try to cut back as they can be really addictive.
Until one time, I was baking brownies for a small backyard sale, I was carefully cutting them into even squares while eating the edges. LOL!
And I thought to myself, instead of running to the grocery stores to get a bag of these, why don't I just make them on my own? Brilliant idea.
They're easy to make and you can do it anytime you want.
Here's how.
But before you get addicted to these, I want to let you know I have an awesome recipe for making milk chocolate out of your dark chocolate chips that are sitting there in the back of your cupboard.
Brownie Brittle Recipe
Detailed Directions
Step 1 – Preheat the Oven
One rule of thumb in baking is preheating your oven before popping your batter in. It's a mortal sin in baking not to preheat your oven.
Preheating your oven will help you get the right temperature for whatever it is you're baking. Failing to do so may give you undercooked goodies which is going to be a disaster.
With that said, preheat your oven to 350 degrees Fahrenheit.
Step 2 – Prepare Your Baking Sheet
Line your baking sheet with parchment paper or a silicone mat.
If you're a little paranoid like me, I always like to grease my pan a little bit before lining it with parchment paper and then spray it with a little nonstick cooking spray. But really, skipping the greasing part and directly lining with parchment paper will do.
The process of lining a baking sheet with parchment paper generally prevents your baked goodies from sticking in the pan. It will then make it easier for you to remove your brownie brittle from the sheet once it's baked.
Step 3 – Mix the Ingredients Together
Start by combining the butter, sugar, and vanilla in a large bowl. Mix it well. Once everything is well incorporated, add in the egg white and mix again.
Sift all the dry ingredients before adding it to the butter mixture. After sifting, combine the butter mixture and the dry ingredients and mix until you get a smooth texture.
This normally takes about 1 minute. If there are still lumps after a minute of mixing, mix a little bit more.
Step 4 – Pour the Batter on the Baking Sheet
Get your prepared baking sheet and pour your brownie batter. Spread the batter using a spatula.
The thinness of your brownie brittle depends on how thick you spread it across the baking sheet. Make it just enough to get the crisp you're looking for.  Remember to not make it too thin, or else you may get an unpleasant result.
My own rule for this step is that if it looks almost transparent in the sheet, then I made it too thin.
Step 5 – Bake the Brownie Batter
Once you have you batter in the baking sheet ready, it's now time to bake it.
Pop it in the oven for 10 minutes. Remove the baking sheet from the oven and sprinkle with semi-sweet chocolate chips. Return to the oven for another 5 to 6 minutes.
It's important not to put the chocolate chips initially with the batter because it will melt, and you will not have chocolate chips in the end if you do. So, halfway through the process is the best time to add the chocolate chips.
And since we're baking it thin, it shouldn't take that long to bake the brownie brittle.
Step 6 – Cut into Pieces
As soon as the brownie brittle is baked, take out the baking sheet from the oven to keep it from burning. Let it cool.
In cutting the brownie brittle, you can do it two ways.
You can cut it into nice even pieces using a pizza cutter before it completely cools down.
Or, you can use your hands to break it apart into pieces once it's completely cool.
To store your brownie brittle, put inside an airtight container and keep in a cool, dry place and consume within one week. No need to refrigerate.
ADDITIONAL TIP #1
I'll let you in on a little secret. If you're not so much into making your brownie brittle from scratch, there's an easy alternative for you – use a ready to bake brownie mix!
You don't have to measure your dry ingredients because it's all prepared for you. All you must do is to add the wet ingredients, depending on what the brownie mix requires. Check the package to see what you need.
Usually, you would need water, vegetable oil, and egg. That's about it.
The process is the same. You preheat the oven, line your baking sheet with parchment paper, whisk all ingredients until well combined, spread the batter into a thin layer in the baking sheet, bake according to the package instruction, let cool, and break apart.
This is so much easier, but it gives you the same result. It's something you can easily do with the kids for a fun afternoon activity.
ADDITIONAL TIP #2
You don't have to limit yourself to using chocolate chips. If you feel like using nuts, you can definitely do that. The nuts commonly used in brownies are almonds, macadamia, walnuts, pistachios, pecans, and even peanuts.
And if you feel like giving your brownie brittle a twist, you can even use salted caramel chips – with or without nuts.
It's just a matter of preference, really. Add what you feel like adding in. After a few bakes, I'm sure you'll find the perfect mix-ins for you.
Print
Brownie Brittle Recipe
---
Total Time:

25 minutes

Yield:

20

–

30

bite-size pieces

1

x
Description
There are two kinds of brownie lovers – the ones who prefer the soft, chewy center; and the ones who go for the edges. I go for the crunchy edges! Make crunchy, addictive brownie brittle using this classic recipe.
---
½ cup

unsalted butter, melted

¾ cup

white sugar

1 teaspoon

vanilla extract

1

egg white
 1/3 cup all-purpose flour

3 tablespoons

Dutch-processed cocoa powder

¾ teaspoon

baking soda

¼ teaspoon

kosher salt

½ cup

semi-sweet chocolate chips
---
Equipment
Notes
Please find much more detailed instructions above.
Prep Time:

10 minutes

Cook Time:

15 minutes

Category:

Desert