Some people may say "po-TAH-to" while others may say "po-TAY-to," but no matter how you say their name, potatoes are the ultimate comfort food! I love the fact that I can bake, grill or fry them depending on my mood. But what I love most is making a nice, warm cheesy potato soup with shredded hash browns when it's cold outside.
There are two ways you can get hash browns for the soup.
One, you can harvest 3 to 4 Russet potatoes from your garden or buy them from the grocery store and shred them either manually or using a kitchen tool. 
Two, you can buy a 20-ounce pack of shredded hash browns. 
If I have time, I prefer to use option 1 and shred the potatoes, but with three young kids running around and busy schedules, I can't always do that. So I often go with option 2 and use ready-to-cook shredded hash browns.
Why Cook with Shredded Hash Browns?
When you dice or shred a vegetable, you are increasing the surface area and reducing the thickness. 
So, they cook quickly and soften to perfection in no time. Plus, you have the option to make them crispy first before adding them to the soup. That creates a unique texture for your cheesy potato soup.
Which Potato Variety Works Best In A Cheesy Potato Soup?
The answer to this question will depend on your tastes. If you wanted to shred your own hash browns, you'll never go wrong with Russets. They shred easily, using either a food processor or box grater and they fry up beautifully.
However, if you wanted to mold your hash browns into solid shapes that you could chew and chomp, then use Yukon gold potatoes. They are denser and less crispy. They also hold their shape because they are waxier, which makes them great for forming hash brown patties or baking potato cakes.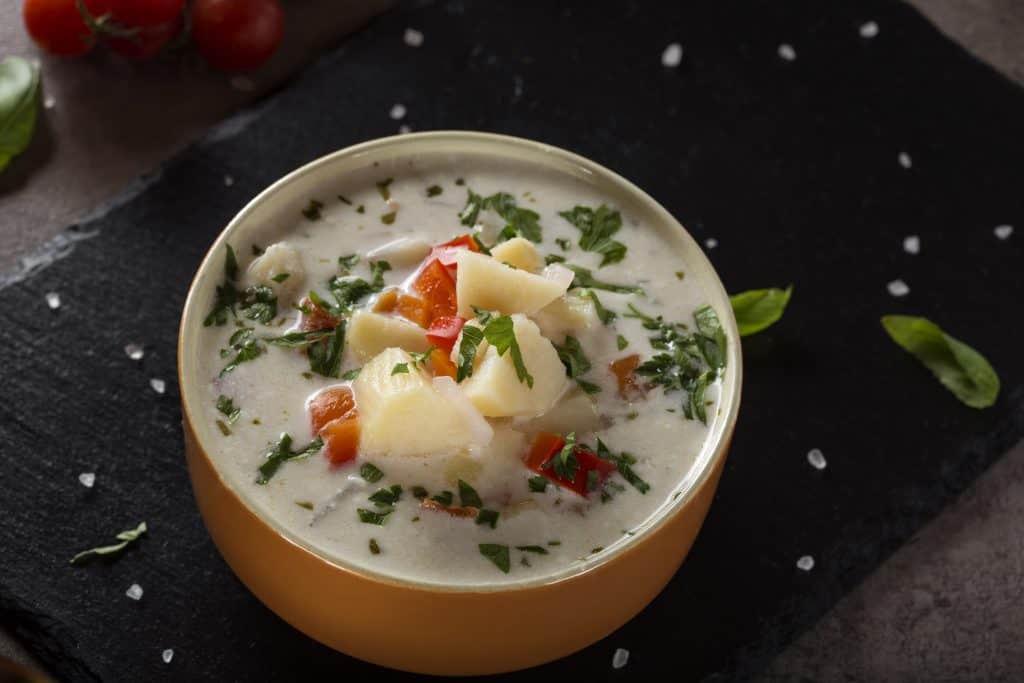 Why Should You Wash Your Shredded Hash Browns Thoroughly Before Cooking?
If you're buying ready-to-cook hash browns, like me, then it's a great idea to wash them thoroughly before using them for cooking. Potatoes have a high starch content despite having only a hundred calories per spud. The starch will make them gummy when you cook them and that can leave a mess in your kitchen.
So, make sure you rinse your shredded hash browns maybe two or three times until the water is clear. Also, make sure to wash them in cold water to stop the potatoes from further oxidizing, which makes them turn gray or brown.
I wanted a quick and easy recipe, so I found this gem from Cassie who shared it through Just A Pinch. I tweaked it a little, so I can enjoy it with my favorite veggies.
Some Tips to Remember When Cooking with Potatoes
1. The potato's skin isn't as nutritious as you thought it was. While the skin does contain approximately half of the total dietary fiber, the majority of the nutrients, like potassium and Vitamin C, are found in the potato itself.
2. You can leave the soup chunky by using a potato masher to smash some of the potatoes to thicken the soup slightly, or use an immersion blender to puree it until completely smooth.
3. If you don't have the cream of chicken, cream of mushroom, or cream of potato in a store, you can use chicken or vegetable stock instead. However, you still need to reduce the moisture for a thick and creamy soup.
4. If you prefer to have a gluten-free soup, then get ready to wash and drain your shredded potatoes repeatedly. Also, choose ingredients, like bacon and stock, that are gluten-free.
5. When preparing shredded hash browns, make sure you squeeze out the water and pat them with a clean towel. You can use cheesecloth if you want, but make sure there's as little moisture as possible in those shredded taters before you cook.
Print
How to Make Cheesy Potato Soup with Shredded Hash Browns
---
Total Time:

40 minutes

Yield:

8

–

10

servings

1

x
Description
This delicious cheesy potato soup with shredded hash browns recipe is perfect comfort food on a cold day. You can shred fresh potatoes or ready-to-cook hash browns from the store.
---
1

stick butter ( 1/2 cup )

1 cup

chopped red onion

1/2 cup

small chopped celery

1 Tbsp

chunky garlic paste or minced garlic

32

-ounce pack of cubed hash browns (partially thawed) or a  20-ounce pack of shredded hash browns

2 1/2

–

3

cups freshly shredded sharp cheddar cheese

14.5 oz

can of cream of chicken soup (alternatives include cream of mushroom and cream of potato)

3 cups

of milk

1 cup

heavy cream

1/4

–

1/2

cup sour cream

1 Tbsp

parsley, paste, or freshly chopped

1 tsp

each of kosher salt & garlic salt or to taste

1 tsp

fresh cracked black pepper
For toppings, you can use real bacon bits, sour cream, and cheese.
For a healthier version, you can add a puree of your preferred veggies.
---
Instructions
In a Dutch oven over medium heat, melt butter. Add onion, celery, and garlic. Cook and stir for about 5 minutes until celery and onions are tender.

Stir in the shredded hash browns. Continue cooking and carefully stirring for another 5 to 10 minutes or so. Make sure the shredded taters do not stick together.

Next, stir in the milk, heavy cream, and cream of chicken soup. Season with salt, black pepper, and garlic salt. Then, add in the sour cream. Adding some chopped parsley is optional.

Stir, making sure the sour cream is thoroughly mixed in. Sprinkle in the shredded cheese and cook until it has melted.

Continue cooking and stirring for another 15 – 20 minutes or until potatoes are nice and tender.

Serve in bowls and top with sour cream, cheese, and bacon bits, if you like.
Prep Time:

5 Min

Cook Time:

35 Min

Category:

Soup
NUTRITION INFORMATION