Remember the Skittles frappe I made? They still ask me to do it for them every once in a while. It doesn't contain real Skittles, but they love it all the same. It's the strawberry and raspberry syrup that gives you the Skittles flavor burst and it has the same "sugar rush" effect on them. Wouldn't want to miss out on that!
Whether in candies or in drinks, Skittles are a hit for the kiddos. So when I made Skittles cookies last year using their oversupply of halloween candies, they loved it as you would've already guessed.
That was the first time I made it for them and it sure wasn't the last. Imagine the sugar rush they get when they ask me for the Skittles cookies and frappe at the same time!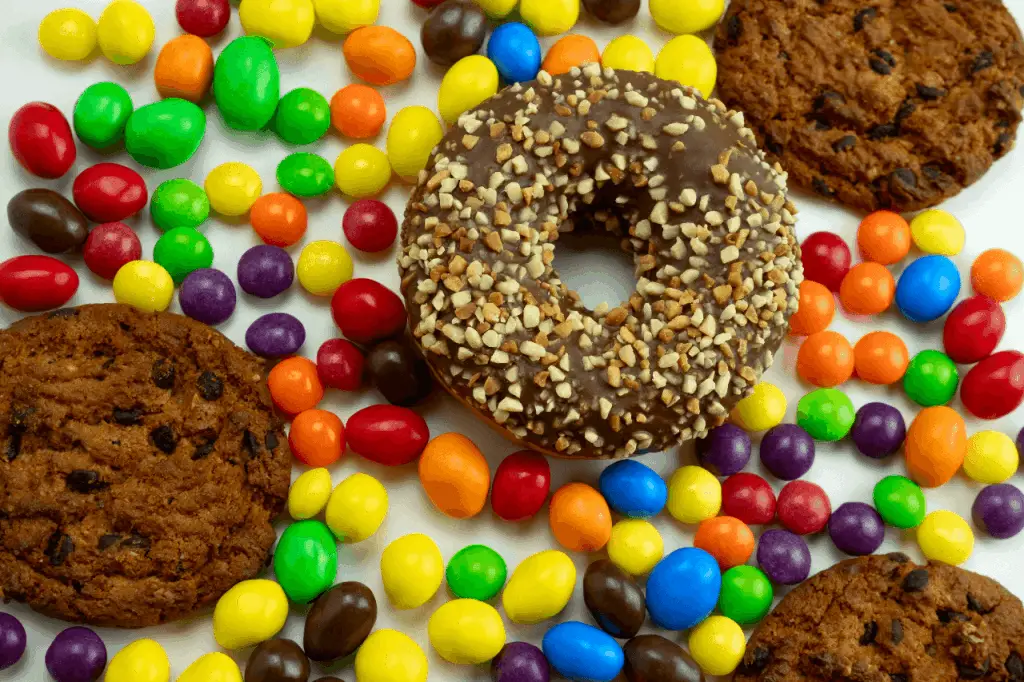 The last time the kids came with me to the grocers, they picked up a few bags as expected. They were able to finish half of them in a few days, then Halloween came so now they have more candy than I let them eat.
I know we gotta do something about all those candies before Thanksgiving and Christmas come. 
The M&Ms make great mixins to my fudge brownies. Baby Ruth, Twix, Reese's, and the rest of the chocolates will work perfectly on my cheesecake cups. And what better way to use up all the Skittles than make Skittle cookies?
And because I'm sure there are brownie and cheesecake recipes everywhere you go, I'll share with you something unique instead. If your kids are Skittles freaks just like mine, this is something you'll surely enjoy making during and after holidays.
I'll walk you through how to make Skittles cookies in a few easy steps using a basic sugar cookie recipe. And if you need to pry the kids off their gadgets, this is a great activity for them. They'd probably eat more Skittles than they put in the cookie dough, but oh well, that's part of the fun, too!
What Skittles Cookies Taste Like
The cookie base I used for this recipe is for a basic sugar cookie so it's very simple to make. Adding Skittles to the sugar cookie will give you a burst in every candy flavor.
I like my cookies soft and chewy so my recipe will give you that kind of texture plus the chewiness of the Skittles with interesting flavors in every bite. You'll get the regular texture of Skittles on top of the cookies and the middle will be oozing with lots of fruity flavor as well.
All in all, you'll get a slightly crunchy cookie on the outside, chewy on the inside, with some gooey goodness somewhere in the middle. And though you know there are Skittles in there, you'll be surprised with each bite and you can't just stop with one cookie.
Make Them Ahead of Time
What I like about this sugar cookie recipe is that because it's so basic, it doesn't take much time to do it even in large batches. You can easily make them ahead of time, roll them into logs, bake a few, and pop the rest in the freezer for later.
With Skittles cookies though, you can mix the Skittles right before you bake the cookies. So if you have your cookie dough in the freezer, just thaw it for a few minutes, add in a few cups of Skittles, roll them into balls, add a few candies on top, and bake them.
There's no rocket science here. Everything is just basic and you'll have your goodies ready in no time without exerting too much effort. 
Print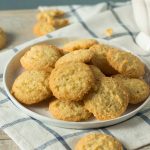 Chewy Skittles Cookies Recipe
---
Total Time:

1 hour 35 minutes

Yield:

25

to

30

cookies

1

x
Description
Easy Skittles rainbow cookies with a burst of fruity flavor in every bite.
---
2 ½ cups

all-purpose flour

1 teaspoon

baking powder

½ teaspoon

salt

⅔ cups

unsalted butter (room temperature)

1 cup

granulated sugar + some extra for rolling (optional)

2

eggs

1 teaspoon

vanilla extract

⅔ cups

Skittles candy + some extra for toppings
Kitchen tools you'll need: 
Large bowl
Mixer
Plastic wrap
Rubber Spatula
Cooling rack
---
Instructions
Whisk together the flour, baking powder and salt in a large bowl. Set aside.
Cream the butter and sugar in the mixing bowl of the mixer.
Add in the egg and vanilla extract. 
Once well combined, add the dry ingredients and mix well until the dough becomes firm.
Add ⅔ cups of Skittles and mix well.
Cover the bowl with plastic and refrigerate for at least an hour.
Preheat the oven to 350 degrees Fahrenheit (or 177 degrees Celsius).
Line the baking sheet with parchment paper. 
Take the dough out of the fridge and roll into 1 ½ to 2 inch balls and roll the balls in granulated sugar (optional) before placing onto the lined baking sheet. 
Top the cookie balls with more Skittles.
Bake for 18 to 20 minutes until the cookies turn light brown.
Remove from the oven and let cool for about 2 minutes.
Remove the cookies with a rubber spatula and place them onto the cooling rack. Let cool completely.
Enjoy! These cookies are best served immediately as they go hard when kept for a long time.
Prep Time:

15 minutes

Cook Time:

1 hour

Category:

Cookies